Alpine Overhead Doors Introduces Speed-Grille™ High Speed Rolling Grille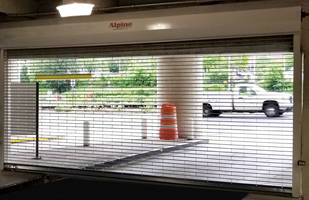 East Setauket, New York 5/02/2022 - Alpine Overhead Doors, Inc., a leading manufacturer of rolling overhead doors, announces the latest addition to its expanding line of high speeddoor solutions: Speed-Grille™. This high performance, heavy duty grille features a variable frequency operator which provides increased speeds over conventional models, up to 24″ up, and 12″ down, with soft start/stop features. Speed-Grille™ also boasts a springless design which minimizes wear and tear over time. It's engineered and built to last at least 300,000 cycles. Standard safety and entrapment features include light curtains and photo eyes, with additional options available.
Alpine's Speed-Grille™ is ideal for parking garages, high security entranceways, municipal facilities, store fronts, malls and shopping centers. They are perfect for any application requiring the benefits of high speed and security with heavy duty specifications.
"We're glad to announce this latest product to our growing line of high speed doors. They have been developed in response to increased demand for improved speed, safety and productivity, with reduced energy costs," says Michael Magro, President and CEO of Alpine Overhead Doors.
Additional information about the Speed-Grille™ high speed rolling grille, including customization options, 3-part-specifications and cut sheet can be found at www.alpinedoors.com.
About Alpine Overhead Doors, Inc.
Alpine Overhead Doors, Inc. is a leading manufacturer of quality overhead rolling door systems. All of Alpine's products are made in the USA since 1972. Alpine's roll up doors are designed to protect against fire, smoke, hurricanes / storms, security threats, riot protection and other applications. Main product offerings include overhead rolling doors, insulated rolling fire doors, rolling shutters / grilles, and rolling steel doors. You can learn more about Alpine's doors, specifications and applications at https://www.alpinedoors.com.
For Immediate Release, Contact:
Michael Magro
Alpine Overhead Doors, Inc.
+1-631-473-9300
[email protected]