Al Kamel Systems Takes Car Racing Fan Experience to Next Level by Deploying TVU Remote Production System (RPS) and TVU NANO Video Transmitter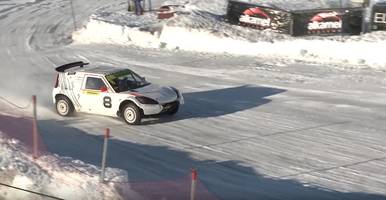 TVU Remote Production System Reduces Production Cost but Not Quality of Fan Experience
MOUNTAIN VIEW, CA – April 30, 2019 – TVU Networks, the global technology and innovation leader in live IP video solutions, today announces that Al Kamel Systems, a leading motor sports live stats broadcast production specialists, has deployed TVU Remote Production System (RPS). By including TVU RPS as a key production tool, Al Kamel Systems looks to save valuable production time and reduce production costs on several events by allowing production staff to add race graphics remotely instead of traveling onsite. Al Kamel Systems' production team can remain at their headquarter production facility near Barcelona and run the graphics in synchronization with the live event. TVU RPS allows them to produce remotely using a public internet connection with a delay between the live feed and graphics playout of less than one second. TVU RPS can bi-directionally transport up to 6 HDSDI HEVC enhanced signals with a sub-second latency and IP data tunnel for additional remote control.
Earlier this year, Al Kamel Systems successfully used TVU Networks' lightest live video transmitter, TVU NANO Video, to transmit real-time video feed from the pilot cabin of cars taking part in the annual Credit Andorrà G-Series electric car Snow Rally Championships. This event takes place every year at 2,400 meters in the Pyrenees, a region with challenging connectivity issues. To overcome the challenges presented, the car weight limit, a remote location at high altitude and with only one wireless network available, the Al Kamel Systems team used TVU NANO Video with two bonded SIMs to transmit Full HD 1080i and enhanced H. 265/HEVC footage over the wireless network to a server located in Barcelona. 
José Luis García, chief executive officer of Al Kamel Systems, said: "Al Kamel Systems is always looking at ways to use the latest market technologies. In previous years motor sports fans have struggled to access high quality live footage of their favorite sports. The power, portability and flexibility of the TVU NANO Video enabled us for the first time to provide the teams and motor sports fans with live high-quality video, a key driver in enabling the G-Series to grow in popularity."
TVU NANO Video, like other TVU Transmitters, transmits high-quality live feed with a glass-to-glass latency of half a second and with its pocket-size design it is easy to use in a variety of locations and events. It is powered by TVU Networks' patented algorithm, Inverse Statmux Plus, to provide a high-bandwidth IP connection by aggregating multiple connection links including cellular, Ethernet and WiFi to secure bandwidth for stable transmission.
David Jorba, Executive Vice President and Managing Director Europe, TVU Networks, said: "By providing motor fans and the driver's teams with a high-quality live video, the experience of the rally provided by Al Kamel Systems was the next best thing to being in the car. The uninterrupted high-quality coverage of the Credit Andorrà G-Series was further testament to the performance of our solutions in challenging environments and network conditions. Also, by choosing to use TVU's RPS for graphic delivery, Al Kamel Systems was able to both reduce production costs and increase the quality of the video experience enjoyed by motor sport fans."
About Al Kamel Systems
Al Kamel Systems is responsible for the timekeeping, TV graphics and IT services in competitions such as FIA WEC, 24 Hours of Le Mans, ABB FIA Formula E, European Le Mans Series and Ferrari Challenge Europe. It also provides coverage to competitions organised by IMSA in the United States, where 24 Hours of Daytona specially stands out. At the same time, the company also works with Peter Auto as well as Barcelona-Catalunya, Spa-Francorchamps, Losail and Sokol circuits, among others.
About TVU Networks®
TVU Networks® is the global technology and innovation leader in IP-based live video solutions. TVU's solutions help transform broadcasters' SDI-based operations - which include acquisition, transmission, routing, distribution and management - to an IP-based infrastructure. TVU® serves customers of all sizes in more than 85 countries from industries that include news broadcast, web streaming, law enforcement, sports, corporate and government. In broadcast markets around the world including the USA, China and other major economic powers, TVU® is the dominant market leader with a large majority of all news broadcast stations using its IP video solutions. Using its proprietary IS+ technology, TVU's uplink solutions use any combination of cellular, satellite, microwave, WiFi and Ethernet IP connections to deliver live HD video from practically any location.