Computer and Communication Terminals
AIS Expands its Line of Military Displays and Computers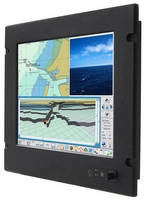 American Industrial Systems Inc. (AIS), an ISO 9001:2008 certified supplier and manufacturer of COTS-based (Commercial Off -the-Shelf) ruggedized displays and computers announced today an expanded offering of military- and marine-grade solutions to be offered by Avnet Embedded, a division of Avnet Electronics Marketing, a business region of Avnet, Inc.. These COTS-embedded computers and customized rugged display solutions reduce program risk, allow technology insertion with affordable readiness, and ultimately help platforms successfully reach deployment sooner, with a lower total ownership cost. To find out more, visit http://www.em.avnet.com/AISmilitarycomputersanddisplays.

Defense applications involving COTS-embedded computers are growing as a percentage of defense equipment acquisitions. There are numerous applications: land, sea, and air -- where use of embedded computer systems offer greater intelligence. As a leading supplier to defense contractors, aerospace, public safety, military, marine and industrial applications, AIS' flexible COTS and military standard (MIL-STD) products strictly adhere to these military compliances: MIL-STD 810, MIL-STD 461, Det Norske Veritas (DNV), IEC 60529, and IEC 60945. Included in this expanded offering are: vehicle mounted systems, tablet PCs, PDAs, operator terminals, and high-performance displays. Each product features: enhanced ruggedization, durability, and product longevity for military and marine applications. HMI touch screen capability, wide temperature operation, wireless connections and high-performance, sunlight-readable display technology, are just a few of the technologies integrated into AIS' comprehensive, rugged line card which provides robust solutions packaged with today's latest technology for the front lines.

"Our expanded product offering meets the growing demand from military and marine applications for increased intelligence and processing power, across a range of communications and defense platforms," said Nelson Tsay, AIS President. "With Avnet Embedded as our distribution partner, our mutual customers will benefit from industry leading technology coupled with Avnet's unmatched services and technical support. "

For more information, visit http://www.em.avnet.com/AISmilitarycomputersanddisplays.

About American Industrial Systems, Inc.
AIS is a leading global designer and manufacturer of specialty digital signage, industrial panel pc, industrial display and rugged tablet pc solutions for customers in the commercial, industrial, defense and aerospace applications. AIS specialize in designing and manufacturing cost-effective LCD and embedded computing products for the industrial market, as well as ODM/OEM applications worldwide. Whether your vision involves off-the-shelf displays or highly customized embedded computing solutions, AIS can supply the experience, technology, and resources you need to build it right and get you to market first. For additional information on AIS products and services, please call AIS toll-free at (888) 485-6688 or visit: www.aispro.com.

More from Packaging Products & Equipment