AirLoc Application News...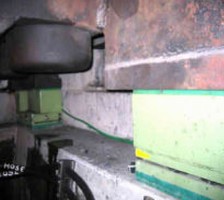 Early last year, AirLoc worked on a forging press application with special installation requirements, in addition to the usual precision leveling and isolation features offered by AirLoc Wedgmounts. A National Model 1600 Maxipres, weighing 200,000 pounds was being moved and installed in a pit with special height and clearance specifications.

The solution was a special 7 in. thick steel plate attached to the top of the 11 VRC Wedgmount with cutouts for machine components on two of the four mounts and provisions for bolting all four machine feet to the mounts. Shown below are pictures of the special Wedgmounts, installed machine, and machine feet in the pit on AirLoc mounts. With AirLoc's engineering application and design capabilities, customer special requirements are easily handled.

For more information regarding AirLoc Wedgmounts or other leveling and isolation products, contact AirLoc headquarters, Franklin, MA or your regional AirLoc Representative.

More from Fluid & Gas Flow Equipment