Machine Vision Appliance inspects quality of labels.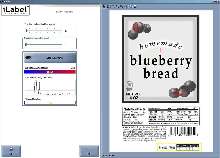 Press Release Summary: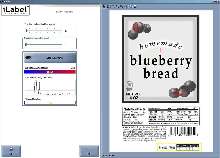 Requiring only minutes of setup time, iLabel checks placement and quality of labels on bottles, boxes, cans, and other packaged goods. It detects flags, tears, and damage to label, and inspects each one for significant defects then reports measurements of quality, placement position, and angle. System inspects 300 labels per minute, from 1-10 in., issues grade of pass, fail or recycle, and reports grade via Ethernet or RS-232, using standard protocols.
---
Original Press Release:

ipd Introduces iLabel, Newest Product in Line of Machine Vision Appliances


BILLERICA, MA (March 3, 2003) - ipd, the intelligent products division of Coreco Imaging, Inc., announces the release of iLabel, the newest product in its line of easy-to-use, task-specific machine vision appliances for industrial end users. Requiring only minutes of setup time, iLabel accurately checks the placement and quality of labels on bottles, boxes, cans and other packaged goods. ipd introduced iLabel during National Manufacturing Week in Chicago, March 3-6, Booth #4112.

"Vision appliances are prepackaged machine vision solutions that incorporate everything users need to perform a specific inspection task in a rugged, compact enclosure with a simple user
interface," said Steve Geraghty, Director of ipd. iLabel, the second product in ipd's line of machine vision appliances, is an easily deployed solution for manufacturers of packaged goods."

iLabel first verifies that the correct label is present and properly placed on the package. It then detects flags, tears and damage to the label, and inspects each one for significant defects such as smears, splatter and contamination. iLabel reports measurements of quality, placement position and angle, and issues an overall grade of pass, fail or recycle for each label.

iLabel's intuitive interface makes it easy for users to get label inspections up and running quickly. A sequence of interface screens guides users through the steps needed to set up an inspection task, including defining parameters for acceptable label positions and angles. Using proprietary neural network technology, iLabel then automatically learns the variation in good labels. The learned label and inspection parameters can be saved as a "solution" and quickly restored or downloaded when the label is changed. Solutions can be saved on the vision appliance or on a network so that a particular label inspection can be trained for one manufacturing line and used on many others.

iLabel can easily inspect 300 labels per minute, ranging in size from 1" (2.5 cm) to over 10" (25 cm). While running, iLabel records a history of good and bad label images that users can review to check the process. iLabel keeps inspection statistics and can report them via Ethernet or RS-232 using standard protocols.

Users can configure inputs that trigger inspection events and outputs that control such external equipment as PLCs and rejecters. The vision appliance's sophisticated internal control processor provides direct control of rejected products in simple applications, often making a PLC unnecessary.

Users access iLabel through a standard web browser, enabling them to configure, remotely monitor and debug their applications. The vision appliance is available with an externlal CCD interface that supports a variety of industry-proven cameras. A dedicated display output allows users to focus the camera and perform a runtime check prior to running the application.

Pricing for iLabel machine vision appliances starts at $3,000. The products will be available in April. More information about ipd and its product offerings can be found on the company's web
site, www.goipd.com.

About ipd
ipd's mission is simple: to provide robust, intelligent and easy-to-use machine vision solutions to improve quality throughout the manufacturing process. Headquartered in Billerica, MA, ipd
manufactures pre-packaged solutions that combine proven technologies with practical interfaces for end users and systems integrators worldwide. ipd offers three product lines that simplify machine vision tasks: application-specific vision appliances, the proven Sherlock software environment and the NetSight family of general-purpose machine vision systems and cameras. ipd is a wholly owned subsidiary of Coreco Imaging (St. Laurent, Canada), a leader in the design and development of hardware and software for high-performance computer vision applications.

ipd
900 Middlesex Turnpike
Building 8, Floor 2
Billerica, MA 01821
Tel: 978-670-2000
Fax: 978-670-2010
http://www.goipd.com

More from Construction Equipment and Supplies