Advanced Half-Rack 1U AC/DC Programmable Power Supply Series Provides Industry Leading 1.5kW Output Power Operating from Wide-Range Single Phase AC Input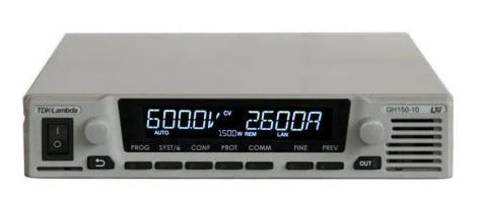 TDK Corporation (TSE 6762) announces the introduction of the TDK-Lambda 1U Half-Rack GENESYS+™ 1.5kW AC/DC Programmable Power Supply Series. This latest introduction has industry leading power density (1.5kW in a Half-Rack width) in a lightweight package (less than 3.5kg / 7.7lbs) all while keeping the same advanced features/functions and front/rear panel interfaces as the other Full-Rack programmable power platforms (1.7kW, 2.7kW, 3.4kW, 5kW, 10kW and 15kW).
Ten different models are available that range from 0-10V (0-150A) to 0-600V (0-2.6A) and can operate in Constant-Current (CC), Constant-Voltage (CV) or the newly offered Constant-Power (CP) limit mode and offer advanced performance and functionality well-suited for both bench-top and rack-mount product design and development in laboratory/R&D environments in market segments such as Aerospace, Automotive, Semiconductor, Medical, Industrial and Renewable/Alternative Energy.
All models within the 1U Half-Rack platform operate from a wide-range single-phase AC Input (85VAC to 265VAC), have built-in active Power Factor Correction (0.99 typical) with conversion efficiencies up to 90% and offer cooling fan speed control (for reduced audible noise and extended life).
Advanced features offered include Internal Resistance simulation, Slew-Rate control of Output voltage/current and Arbitrary Waveform Generation with Auto-Trigger as well as Enable/Disable with Polarity selection, Internal Pre-Load ON/OFF control, Trigger-IN/Trigger-OUT capability and built-in Control pins (for external load disconnect or polarity reversal).
Built-in standard control methods include the Local-Mode menu-driven front panel display, the Remote Isolated Analog Interface or any of the four rear panel Remote Digital Interfaces (LAN, USB, RS-232 and RS-485). Optional rear panel Remote Digital Interfaces included are IEEE and Modbus-TCP. Software instrument drivers are available as well as application software that includes a Waveform Creator (to create, store/load and trigger waveform sequence profiles) and a Virtual Front Panel GUI (with Status Logger, Constant Power Limit simulator and Solar Array simulator).
With each unit only having a Half-Rack width, a 17" depth and 3.5kg weight, two units can easily be moved and installed side-by-side in a standard 19" rack using the GH/RM Rack-Mount accessory kit. A Blank Front Panel option is available where front panel local mode user access is not required.
Carrying a five (5) year warranty, the Half-Rack 1.5kW Power Supply Series has Safety certifications to IEC/EN/UL/cUL 60950-1 and is CE marked in accordance with the Low Voltage, EMC (IEC/EN61204-3; industrial environment) and RoHS Directives.
More information can be obtained on the TDK Product Center, or by calling 800-LAMBDA-4.
About TDK Corporation
TDK Corporation is a leading electronics company based in Tokyo, Japan. It was established in 1935 to commercialize ferrite, a key material in electronic and magnetic products. TDK's portfolio features passive components such as ceramic, aluminum electrolytic and film capacitors, and magnetics, high-frequency, and piezo and protection devices. The product spectrum also includes sensors and sensor systems such as temperature and pressure, magnetic, and MEMS sensors. In addition, TDK provides power supplies and energy devices, magnetic heads and more. These products are marketed under the product brands TDK, EPCOS, InvenSense, Micronas, Tronics and TDK-Lambda. TDK focuses on demanding markets in the areas of information and communication technology and automotive, industrial and consumer electronics. The company has a network of design and manufacturing locations and sales offices in Asia, Europe, and in North and South America. In fiscal 2019, TDK posted total sales of USD 12.5 billion and employed about 105,000 people worldwide.
About TDK-Lambda Corporation
TDK-Lambda Corporation, a group company of TDK Corporation, is a leading global power supply company providing highly reliable power supplies for industrial equipment worldwide. TDK-Lambda Corporation meets the various needs of customers with our entire range of activities, from research and development through to manufacturing, sales, and service with bases in five key areas, covering Japan, Europe, America, China, and Asia.
For more details, please pay a visit to http://www.tdk-lambda.com
Editorial Contact:
Tom Goodman
Product Manager, Low Voltage Products
TDK-Lambda Americas Inc.
405 Essex Road
Neptune, NJ 07753
Ph: 732-795-4148
Email: [email protected]