ACH Foam Technologies' Foam-Control® Fills the Void in Precast Architectural Panels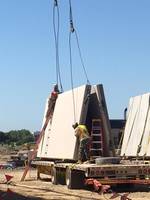 DENVER, Aug. 22, 2017 - Enterprise Precast Concrete of Texas, Operations Manager, Scott Davis is certain that a high-performance building envelope is one of the wisest investments anyone can make in commercial construction. Davis relies on ACH Foam Technologies for Foam-Control® expanded polystyrene (EPS) rigid foam insulation to fill the void in Enterprise's architectural precast panels.
"I'm confident that there is no better value for a wall system than an insulated architectural precast panel," says Davis. The well-regarded environmental benefits of insulated precast panels begin with being fabricated in a controlled production facility with virtually no waste. Enterprise's panels provide a complete thermal break between the interior and exterior façade, helping architects meet building codes with a high-performance solution that works well in any climate.
With all of the forming, mixing, pouring and curing technology in-house, Enterprise relies on Foam-Control® expanded polystyrene (EPS) rigid foam insulation as the most effective panel core, generally achieving an R-value between 4 and 5 for every inch of EPS thickness.
"We count on ACH Foam Technologies for a few reasons," says Davis. "Frequently our projects involve panels of many different sizes and compositions and ACH is able to provide their products in a tremendous array of lengths, thicknesses, densities, and compressive strengths, which allows us to fabricate any panel with ease and little waste."
ACH Foam Technologies understands that construction is a fluid, dynamic process and being flexible to customers' schedules is a strong suit. Sales representatives work closely with buyers to build an initial product delivery schedule and then continually monitor the push and pull of each project in weekly check-ins to make required adjustments. Enterprise also finds that EPS products are easier to use than comparable XPS materials, noting that the slightly textured face of rigid EPS foam provides a gripable surface for the concrete to bond, creating a stronger seal between layers.
In addition to Foam-Control® 130 insulation used in Enterprise's precast panels, ACH Foam Technologies also makes Foam-Control PLUS+® architectural insulation which delivers high compressive strengths and high R-Values. ACH Foam Technologies' Foam-Control® and Foam-Control PLUS+® products solve many other construction challenges from roof insulation to vertical wall applications and underslab insulation, as well as being an exceptionally strong yet lightweight concrete void-filler.
Contact Information:
Mary Burk
ACH Foam Technologies
8700 Turnpike Drive Suite 400,
Westminster, CO 80031 US
303.645.4114
More from Electronic Components & Devices