Accumet Unveiling The Latest in Precision Ceramic Processing and Laser Techniques at IMS 2019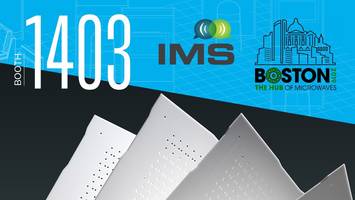 Westford, MA – May 23, 2019—Accumet, a precision processing center and value-added supplier of RF, aerospace, and medical ceramics and other materials, is pleased to announce they will be exhibiting in booth #1403 at the 2019 International Microwave Symposium (IMS) in Boston, MA June 3rd to the 6th.
Accumet Engineering, Inc. and Laser Services Inc., have officially merged under the brand name Accumet (www.accumet.com) and are now a single source of supply for a variety of advanced ceramic material processing and laser machining services from their two facilities in Hudson and Westford, MA. Accumet will be discussing with RF/microwave designers their ultra-precise lapping and polishing techniques for ceramic alumina and aluminum nitride, silica, BeO, and metals as part of pre-processing steps for semiconductors and other microelectronics, while also reviewing guidelines for pre- and post-manufacturing laser machining, such as laser cutting, drilling, and marking. Accumet is sharing their knowledge for properly creating laser welded hermetic seals.
RF/microwave and microelectronics manufacturers, as well as military/aerospace (mil/aero) OEMs, can stop by and talk about their needs for turnkey stocking plans and services for just-in-time delivery of processed ceramic substrates, materials and components.
Accumet's specialties include historically proven lapping and polishing methods for optimal integrated circuit adhesion and reliability with micron scale accuracy, and fast, dependable laser cutting and drilling of materials and circuits―including precision vias and through holes.
To learn more, stop by IMS booth #1403 at IMS, and visit www.Accumet.com.