Abrisa Technologies has The Broadest Selection of SCHOTT D 263® T eco Ultra-Thin Glass in North America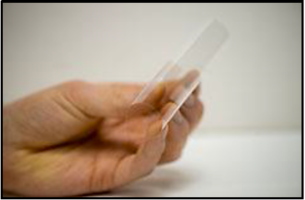 April 2, 2023 – Santa Paula, CA – Abrisa Industrial Glass (AIG), a division of Abrisa Technologies has the broadest selection of SCHOTT D 263® T eco ultra-thin glass available in North America with 16 thickness options ranging from 0.03 mm to 1.1 mm. Available sheet sizes are 440 mm x 360 mm for thicknesses of ≤ 0.21 mm and 510 mm x 430 mm for thicknesses > 0.21 mm.
D 263® T eco is a colorless, low auto-fluorescence borosilicate glass with excellent transmission in the UV to NIR range, is lightweight, ultra-thin, and has excellent thermal stability. This makes D 263® T eco a particularly attractive candidate for use in low profile displays, miniature systems, ultra-light applications, bio imaging, mobility, electro-optics, and compact sensing applications. SCHOTT's specific down-draw method results in an excellent < 1nm rms low roughness fire-polished surface finish with thickness tolerances down to ±10 microns. The robust glass is also manufactured with eco-friendly refining agents free of arsenic and antimony.
SCHOTT D 263® T eco is a versatile, durable, and reliable high-performance glass with outstanding and adaptable technical advantages due to its wide range of thicknesses, high homogeneity, and strong transmittance. D 263® T eco glass is the ideal choice for harsh environments demanding high-precision optical components.
According to Susan Hirst, General Manager for AIG, "SCHOTT D 263® T eco ultra-thin glass can be custom fabricated to meet individual customer specifications. It's an excellent choice for lightweight windows and mirrors for mobility, wafer-based micro-optics for (AR) augmented reality, (VR) virtual reality, 3D scanning and sensing, telecom, optical caps for sensors and diodes, ultra-thin ITO heaters with bus bars, biotech sample and microscopy cover glass, sunlight and heat resistant in-cabin displays, low profile displays and human interface devices, low alkali mobility for active matrix displays, camera imaging, and ultra-thin cover glass."
Susan further states, "In addition to our custom cutting and CNC machining, our in-house value-added solutions for SCHOTT D 263® T eco and our other ultra-thin technology glass can include oleo/hydrophobic, anti-reflective, and ITO/IMITO coatings, bus bars and wire soldering, screen printed graphics including edge printing, chemical and heat strengthening, safety films, mounting tapes and gaskets, and laser marking."
Abrisa Technologies, a member of HEF Photonics, is a globally recognized technology glass fabrication and optical thin film coating company with expertise in high volume manufacturing and engineering capabilities, delivering ready-toinstall Total Solutions that provide excellent performance, fitness-for-use, and economies of scale.
Our US based, state-of-the-art ISO 9001:2015 and ITAR registered facilities include Abrisa Industrial Glass in Santa Paula, CA, and ZC&R Coatings for Optics in Torrance CA. These two divisions produce solutions from cut-to-order coated glass components to custom complex and ready-to-install fabricated, strengthened, optically coated, electronically enabled, and branded sub-assemblies.
Our Total Solutions serve a variety of markets including Micro-Electronics, Defense and Avionics, Display, Industrial Automation, Optical Sensors, Imaging, Photonics, Medical & Dental, Life Science, and more.
ABRISA Technologies
200 South Hallock Drive
Santa Paula, CA 93060
Website: www.abrisatechnologies.com
Media Contact:
Lori Appel
+1-805-312-5873