Abrisa Technologies Can Custom Fabricate & Coat SCHOTT Borofloat® 33 Multi-Function Float Glass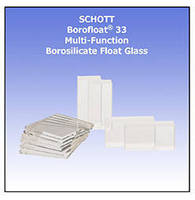 Abrisa Technologies provides custom fabrication and coating of SCHOTT Borofloat® 33; floated borosilicate glass. Generally used in applications with extreme thermal and/or chemical demands, Borofloat® 33 is the glass of choice when conventional float glass such as soda-lime cannot meet the tough chemical and thermal specifications. The glass has exceptional optical quality due to the micro-float manufacturing process resulting in a homogeneous material that has a mirror-like surface and a high degree of flatness. Borofloat® 33 exceeds the chemical durability of most metals and other materials.



Key Benefits of Borofloat® 33 include:



Three times the thermal shock resistance of soda-lime glasses along with a thermal expansion comparable to that of silicon

Low density (approx. 10% less than soda-lime)

Large sheet size and wide thickness spectrum



SCHOTT Borofloat® 33, floated borosilicate glass has outstanding product properties including:



A mirror like surface quality that is excellent for special glass applications such as biotechnology and microelectronics

A low thermal expansion and high thermal shock resistance that provides the ability to withstand temperatures up to 450°C

Borofloat's® high chemical resistance makes it a durable choice for caustic environments that may include acids, bases, and organic substances

Borofloat has an overall high transmission of ultraviolet, visible and infrared wavelengths

A Low alkali content allows Borofloat® to work as a good electrical insulator

A clear practically colorless appearance for improved view-ability



Applications where Borofloat® 33 floated borosilicate glass is the material of choice include:



Lighting – protective panels for spotlights and high-power floodlights

Precision engineered optics – filters, telescope mirrors

Medical & biomedical technology – slides, micro-fluidic systems

Semiconductor – wafers and display glass

Electronics – sensors and instrumentation



Abrisa Technologies can provide Borofloat® multi-function, floated borosilicate glass in thicknesses of 0.7mm up to 25.4mm and in sheet sizes of 1150 x 850mm as well as 1700 x 1300mm that can be fabricated to application specific requirements.



We can also apply anti-reflective, dichroic, UV, IR, indium tin-oxide (ITO), and index-matched IMITO coatings to Borofloat® glass substrates. Additionally, Borofloat® can be chemically and heat strengthened, machined, drilled, cut, edged, polished, cleaned, grinded, and screen printed to enhance functionality and performance.



Abrisa Technologies is a recognized global supplier of high quality, fabricated glass components, optical thin film coatings, and custom glass solutions for a wide variety of industries. From our US based Abrisa Industrial Glass fabrication facility in Santa Paula, CA and our ZC&R Coatings for Optics division in Torrance, CA we serve diverse industries such as microelectronics and displays, semiconductor, military, automotive, aerospace, medical, biomedical and scientific R&D. We provide custom specialty flat glass and coating products for applications such as: flat panel display, touch and gesture recognition; visible to IR imaging and surveillance; entertainment, indoor and outdoor lighting; advanced instrumentation; and photonics.



More from Packaging Products & Equipment