ABB Control Systems Help Capture 12 Million Tons of Carbon Dioxide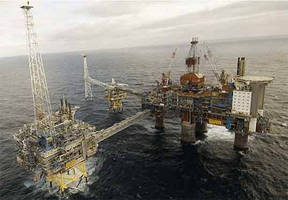 Zurich, Switzerland, April 26, 2010-- - ABB process control systems have successfully managed the world's first large-scale carbon capture and storage (CCS) facility since 1996. To date, nearly 12 million tons of carbon dioxide have been captured and safely stored 1,000 meters below the seafloor. More than half of the world's large-scale CCS facilities are now controlled by ABB technology.

Although there are several small-scale CCS projects in the world today, often using different proprietary technologies and operating on a pilot basis, there are only four facilities that capture and store carbon dioxide on a large, commercial scale for climate change reasons.

Three of those four facilities are operated by StatoilHydro, the Norwegian-based oil and gas company. And ABB, the world's leading supplier of distributed control systems for energy-intensive industries like oil and gas, is helping StatoilHydro monitor and control the complex process of capturing and safely storing the carbon dioxide at these facilities.

It was StatoilHydro who developed the world's first large-scale CCS process in 1996 at the Sleipner oil and gas field in the North Sea. The gas recovered at Sleipner contains 9 percent carbon dioxide, which exceeds the market requirement of 2.5 percent. If emitted, the captured carbon dioxide would have added a cost of nearly $60 per ton in carbon taxes and emission quota purchases.

By stripping the carbon dioxide from the natural gas, compressing it and injecting it into a storage reservoir 1,000 meters beneath the seafloor, StatoilHydro is able to meet the market specifications, significantly reduce its greenhouse gas emissions and avoid a considerable cost.

About one million tons of carbon dioxide are captured and stored at Sleipner each year. This amounts to around 12 million tons in all since 1996 - a huge benefit for the environment and a pointer to how global carbon dioxide emissions can be reduced and managed in the coming years.

Following the success of its CCS project at Sleipner and a second facility in Algeria, StatoilHydro opened a third large-scale CCS process at the Snøhvit gas field in the Barents Sea in 2008. There, natural gas with a carbon dioxide content of between five and eight percent is piped 143 kilometers to an onshore liquefied natural gas (LNG) plant on the island of Melkøya.

The excess carbon dioxide is stripped at Melkøya and piped 153 km offshore, where it is injected into a saline aquifer 2,800 meters below the seafloor. The process was started in 2008. It captures and stores up to 700,000 tons of carbon dioxide a year.

StatoilHydro's latest CCS project is the European carbon dioxide Technology Centre at Mongstad in Norway, which is under construction and which StatoilHydro owns along with Shell and Gassnova. The intention is to develop carbon capture technologies and further reduce the cost and risks associated with large-scale capture and storage. The Technology Centre at Mongstad is the largest planned pilot project of its kind, with an annual capacity for handling up to 100,000 tons of carbon dioxide. The centre is scheduled to start operation in late 2011/early 2012.

ABB's involvement in all three projects - Sleipner, Snøhvit-Melkøya and Mongstad - is comprehensive. ABB automation systems monitor and control all three sites, using their unique integration capability to control not only the complex carbon capture process, but the entire production process as well.

At Sleipner, ABB's Advant OCS Master control system manages all subsea and topside operations including the subsea and wellhead control systems, the safety, shutdown and fire and gas protection systems, and the carbon capture and storage process.

At Snøhvit-Melkøya, ABB's Extended Automation System 800xA controls the offshore gas field, pipelines, LNG plant and carbon capture plant, as well as integrates the safety, electrical control and power management systems for the onshore facilities on one unified platform.

And at Mongstad, ABB is supplying the complete electrical and automation scope based on System 800xA for the entire carbon dioxide technology center. Having the electrical and automation systems integrated on a single platform provides key competitive advantages such as improved energy efficiency, process reliability and productivity as well as reduced maintenance, engineering and overall lifecycle costs.

ABB has a long and close working relationship with StatoilHydro and has developed numerous leading-edge power and automation solutions for StatoilHydro's operations. They include the world's first offshore platform to be powered by electricity transported from the onshore grid.

ABB (www.abb.com) is a leader in power and automation technologies that enable utility and industry customers to improve their performance while lowering environmental impact. The ABB Group of companies operates in around 100 countries and employs about 117,000 people.

More from Electronic Components & Devices