A.W.T.'s Accu-Glide Featuring New Optional Counterweight Print Arm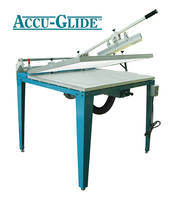 Print Arm Enhances Print Quality, Increases Output, and Reduces Operator Fatigue
Chicago - Now available with an optional counterweight Print Arm, A.W.T.'s Small Format Accu-Glide™ One Man Squeegee Unit offers an inexpensive, yet high-quality solution to screen print short runs, proto-types and test runs. The optional Print Arm ensures consistent print stroke quality and reduces operator fatigue.
The aluminum Stay-Flat™ Vacuum Table provides a flat, warp proof printing surface. The vacuum hold down is powered by our maintenance-free quiet vacuum motor, the quietest in the industry. Vacuum on/off is easily controlled by the upfront hand lever system.
The small format Accu-Glide is manufactured using A.W.T.'s reliable products including the Big Gripper Screen Frame Clamping Unit with micro registration control, heavy duty Sidekick reversible screen lift and ergonomically shaped all-aluminum contoured squeegee holder. The squeegee holder comes with A.W.T.'s top-of-the-line Poly-Supreme™ Vulkollan squeegee blade. Adjustable legs allow the vacuum table height to be adjusted for operator comfort and ink control.
Other optional features include manually adjustable air flow to vacuum, a spare parts package, and conversion to 50 Hz. With its enhanced print-stroke quality and ease of operation, the optional counterweight Print Arm makes the Accu-Glide an even more attractive addition to your screen printing operation.
For more information on the Accu-Glide, visit our website at www.awt-gpi.com/product109.htm or email: sales@awt-gpi.com.
A.W.T. World Trade Inc. (www.awt-gpi.com), the complete manufacturing source for screen printing equipment and supplies, is a division of The A.W.T. World Trade Group. Other divisions of The A.W.T. World Trade Group include Graphic Parts International Inc. (www.gpiparts.com), an industry leader in providing replacement parts and remanufacturing services, and American M&M (www.screenprintmachinery.com), manufacturer of such well-known and respected screen printing equipment as the Cameo, Hercules, Centurian and Daytona presses.
In addition to a worldwide network of distributors and dealers, The A.W.T. World Trade Group has its corporate headquarters and manufacturing facility in Chicago, and a sales office and distribution center in Miami, serving Central and South America.
More from Laboratory and Research Supplies and Equipment