A&B Software Receives Gold Level Innovators Award at AIA Vision Show 2018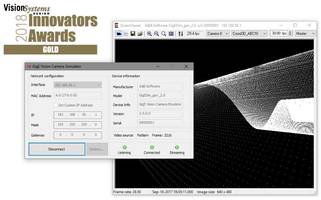 A&B Software was honored with the Gold Innovators Award from Vision Systems Design (VSD) at a special ceremony on April 10, 2018, in Boston, Mass
Boston, MA.-- On April 10, A&B Software was presented with a prestigious gold-level award in the software category at the Fourth Annual Vision Systems Design Innovators Awards presentation, held during The Vision Show 2018. The company's GigESim GigE Vision Simulator and Server SDK received an outstanding score from a panel of esteemed experts from system integrator and end-­user companies.
GigSim is a software package that allows end-users and developers to convert their computers, applications and devices into a set of virtual GigE Vision cameras. Any GigE Vision compliant software running at the same or other computers on the network will treat GigESim as an actual GEV camera. GigESim includes a powerful SDK that allows developers to assign images generated by their application to a simulated GigE Vision camera and stream them to the network for further processing and analysis. Despite the complexity of GigESim's internal structure, the SDK is very easy to use. No familiarity with GigE Vision or GenICam standards is required. Using a set of simple functions a developer can define individual features provided by a virtual camera, exercise a full remote control over each feature, and stream images and data to the network in the GigE Vision format. The latest version of GigESim supports 10 GigE and multi-NIC connections which makes it an ideal choice for developing distributed image processing systems based on the GigE Vision standard.
The Innovators Awards are judged based on the following criteria:
 Originality
 Innovation
 Impact on designers, systems integrators, end users
 Fulfilling a need in the market that hasn't been addressed
 Leveraging a novel technology
About A&B Software
A&B Software is a leading provider of advanced products and services for the industrial and scientific imaging marketplaces. A&B Software's ActiveDcam, ActiveGigE, ActiveUSB, ActiveGeni, GigESim and ImageWarp software products are used in a wide variety of application areas including industrial automation, metrology, life science, X-ray inspection, food processing, aerospace, geology, traffic and security.
About The Vision Systems Design 2018 Innovators Awards Program
The Vision Systems Design 2018 Innovators Awards program reviewed and recognized the most innovative products and services in the vision and image processing industry. Honorees were announced at Automate 2018 held in Boston, MA, USA. Criteria used in the Innovators Awards ranking included: originality, innovation; impact on designers, systems integrators and end-users; fulfilling a need in the market that hasn't been addressed, leveraging a novel technology, and increasing productivity.
For more information on GigESim GigE Vision Simulator and Server SDK refer to the following specifications: 
www.ab-soft.com/download/GigeSim_specifications.pdf
A&B Software
5 Holly Ter
New London, CT 06320
Phone: 860-823-8301
Fax: 860-777-2506
E-mail: [email protected]
Web Site: www.ab-soft.com
Contact:
Boris Nalibotski
[email protected]
tel: 860.823.8301