8x20 CNC Router Delivers High Performance for Panel Processing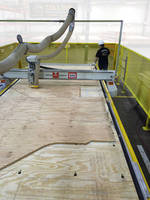 Techno CNC Systems is pleased to announce the successful installation of their 8ft. x 20ft. HD-XL model CNC Router. Techno was contracted by a large corporate bus manufacturer to build an extra-large format CNC for routing their full size floor deck panels.



Prior to the Techno CNC machine, these floor panels were manually drilled and cut by hand. The company required a CNC router to handle oversized sheet material. Techno's machine has automated this process, saving the company considerable time and labor as well as improving on accuracy and safety. Techno was able to meet their needs with the HD-XL 8ft. x 20ft. model CNC router.



Please visit Techno's website to see a video showing a full sheet of ¾" plywood being cut by the HD-XL 8ft. x 20ft. CNC Router. (technocnc.com/CNC-Routers/video/index.htm).



Contact Techno's sales application engineers today at (631) 648-7481 or visit www.technocnc.com to learn more about how these machines can benefit your business and product quality or fill out the convenient online form for a free quote.

More from Thermal & Heating Equipment