500°F Inert Atmosphere Walk-In Oven from Grieve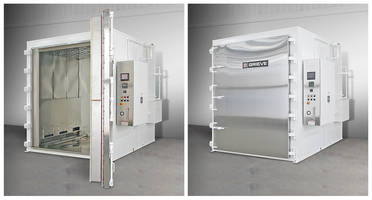 No. 1038 is a 500°F (260°C), inert atmosphere walk-in oven from Grieve, currently used for annealing polyurethane tubing at the customer's facility. Workspace dimensions of this oven measure 60" W x 72" D x 84" H. 40 KW are installed in Incoloy-sheathed tubular heating elements, while a 4200 CFM, 3-HP recirculating blower provides vertical downward airflow to the workload.
This Grieve walk-in oven has 6" insulated walls and an aluminized steel exterior with white epoxy paint. Type 304, 2B finish stainless steel interior with continuously backwelded seams and inert atmosphere construction are also onboard, including a pressure regulator, flow meter, pressure gauge, inner oven walls sealing directly against ½" thick silicone rubber door seal, blower shaft seal, positive latching door hardware, adjustable offset door hinges, outlet with pressure relief, interior seams welded gas-tight and all wall penetrations fitted with compression fittings. The oven has a 4" insulated floor with truck wheel guide tracks mounted on top of the floor.
Controls on the No. 1038 include a digital programming temperature controller plus a paperless event recorder.
For more information, please contact:
THE GRIEVE CORPORATION,
500 Hart Road,
Round Lake, Illinois 60073-2835 USA.
Phone: (847) 546-8225.
Fax: (847) 546-9210.
Web: www.grievecorp.com.
Email: sales@grievecorp.com.
Attention: Frank Calabrese.
More from Paints & Coatings