4B Bolt-N-Go Round Bottom Patent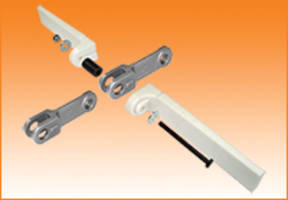 Morton, IL - September, 2020 - 4B Components, an industry leader in developing smart components for bucket elevators and conveyors, announced today that the United States Patent and Trademark Office (USPTO) has issued U.S. Patent No. 10,556,748 to support the company's ongoing efforts to make chain conveyors more efficient to operate. The patent covers a chain assembly technology specifically developed for round bottom conveyors and it features a fully bolt-on construction made up of plastic paddles, steel attachments, and chain links. Branded as "Bolt-N-Go RB", the new product expands the already popular Bolt-N-Go conveyor chain line currently available for Flat Bottom (FB) and Hi-Flite (HF) conveyors. "Grain and feed operators currently using Bolt-N-Go realize how much easier and safer it is to install, replace and maintain Bolt-N-Go chain compared to conventional welded steel chain. The new Round Bottom version of Bolt-N-Go expands this technology for use with a wider range of conveyors, allowing maintenance teams to be even more productive" says 4B VicePresident and patent inventor Roger Bruere. For more information on converting a conveyor to Bolt-N-Go, Roger can be reached at rbruere@go4b.com.
ABOUT 4B COMPONENTS LIMITED:
Founded in 1971 as a subsidiary of The Braime Group, 4B has been an industry leader in developing high quality, innovative, and dependable material handling components for the agricultural and industrial sectors.
4B's product line ranges from elevator buckets, elevator bolts and drop forged conveyor chain to level monitors, speed switches and hazard monitoring systems.
With offices in North America, Europe, Asia, Africa and Australia along with a worldwide network of distributors, 4B can provide practical solutions for applications in any location.
PRESS CONTACT:
Randy Stauffer
Vice President Marketing
4B Components Ltd.
rstauffer@go4b.com
Cell: 402-203-8695
Office: 309-698-5611
www.go4b.com/usa
More from Electrical Equipment & Systems