Certified quality for offshore applications - ROBA®-DS shaft couplings tested by DNV GL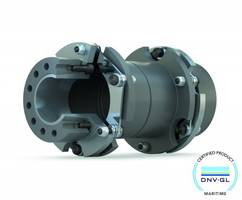 The compact and high performance ROBA®-DS disk pack couplings by mayr® power transmission have been certified by DNV GL. They ensure maximum possible operational and functional safety for users on the high seas.
Whether in the drives of ship propellers, mobile platforms such as drilling platforms for oil and gas extraction, or also in tidal power plants - the areas of application for disk pack couplings in the maritime industry are diverse. For example, if the main drive of a ship propeller is an electric motor, then spring steel disk pack couplings such as the ROBA®-DS by mayr® power transmission provide decisive advantages. These couplings are robust, reliable and temperature-resistant: They are therefore particularly suitable for use in extreme environmental conditions at sea. Furthermore, the ROBA®-DS couplings are wear-free, i.e. they reduce the maintenance effort required to a minimum. Just as for the previous model ROBA®-D, mayr® power transmission has also received the type approval from the DNV GL (Det Norske Veritas und Germanic Lloyd) for this even more compact and high performance density ROBA®-DS all-steel coupling up to construction size 2200. This certificate confirms the high quality and reliability of the coupling with customary safe dimensioning and design, and ensures the maximum possible operating and functional safety for use on the high seas.
The high performance and robust ROBA®-DS disk pack couplings are especially suited for operations in extreme environmental conditions at sea. The type approval by the DNV GL confirms the high quality and reliability of the couplings and ensures maximum possible operating safety on the high seas.
High performance and backlash-free
The nominal torques stated in the catalogue can be utilised without any limitations using the ROBA®-DS disk pack coupling. A reduction of the nominal torque due to misalignment, overall load configuration or balancing requirements is not necessary. The couplings are compact and feature a high performance density and small dimensions - ideal for ship engines, in which only little installation space is available. In case of providers who have to take misalignments and alternating torques into consideration when dimensioning, a larger coupling frequently has to be selected for the same nominal torque and also the same speed. The ROBA®-DS disk pack couplings transmit torques up to the nominal torque absolutely backlash-free and with a consistently high torsional rigidity. The shaft misalignments stated can be utilised to 100% without influencing the transmitted torque. The disk pack couplings compensate radial, axial and angular misalignment of shafts, and as a result protect the bearings against undesired loads, and therefore against unnecessary downtimes and costs.
Mayr Corporation
4 North Street
USA-Waldwick
NJ 07463
George DUERR
Phone: +1/201-4457210
Fax: +1/201-4458019
Chr. Mayr GmbH + Co. KG
Eichenstraße 1
87665 Mauerstetten, Germany
Simone Dauer
Phone: +49 8341 / 804-2332
Fax: +49 8341 / 804-492332
More from Electrical Equipment & Systems