ASG, Division of Jergens, Inc.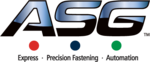 15700 South Waterloo Road
Cleveland, OH 44110-3898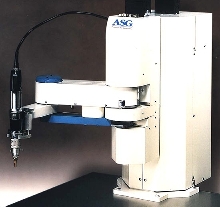 SCARA Fastening System is a screw assembly robot that employs ASG electric torque-control screwdrivers for repeatable fastener torque ranging from 4.0 oz-in. to 39.0 lbs-in. With no workpiece weight restrictions, SCARA robot is suitable for payloads of any weight. Repetitive position accuracy is +/-0.01 mm in Z axis, and +/-0.02 mm in X and Y axis. Set-up and training pendant uses plain English...
Read More »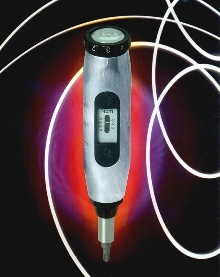 Adjustable torque manual screwdriver lets operator dial in torques from 20 oz-in to 40 ft-lb. via twist action. Slip clutch prevents over-torquing, and driver automatically resets for next fastener after torque is reached. 3 models are available: 20-100 oz-in, 3-15 ft-lb, and 5-40 ft-lb. Preset manual torque drivers are also available. All manual drivers are calibrated to meet/exceed accuracy and...
Read More »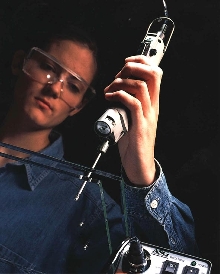 Model BL-5000 torque-controlled driver's brushless motor eliminates carbon dust. Its brushless design is rated for continuous use with minimal heat build-up. Intended for medium to light torque assembly applications, BL-5000 drivers automatically stop when pre-set torque is obtained. Torques, adjustable via hex wrench, can be set between 1.77 and 10.6 lb-in. BL-5000 can convert from lever-start...
Read More »