Bonomi North America, Inc.

128 Rental Court
Rock Hill, SC 29732
These low-torque, direct mount electric and pneumatically actuated valve packages can reduce your standard valve, mounting kit, and actuator package costs by as much as 40%. Using a single part number ordering system, in sizes 1/4 to 4", the packages are the smallest in the industry, sometimes with the valve much larger than the actuator! The cost-effectiveness of the units result in smaller...
Read More »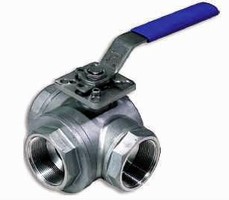 Four seated, 3-way ball valves come in L and T port designs, offer 14 flow path options, and allow any port to be used as entry. Brass models have low torque design, are rated to 400 psi, and come in sizes from Â-¼-3 in. Stainless steel models are rated to 1,000 psi and come in sizes ¼-2 in., in standard and full port options. All L and T port 3-way valves are ISO direct mount style...
Read More »
Compact Electric Rotary Actuator features dual voltage motors, 2 auxiliary limit switches, heater and thermostat, dual ISO drilled pads, declutchable manual override, and torque limiter. Lightweight, corrosion-resistant unit is IP 66- and 68-rated, and can be mounted in any position. Optional combination 4-20 mA and 0-10 Vdc positioners are available.
Read More »