420 Ambassador Dr.
Mississauga, ON L5T2R5 CAN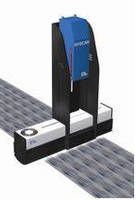 Available on most Rotoflex finishing solutions, LT Web Inspection system detects defects such as broken and missing characters, registration of print and die cut, color deviations, and ink splashes. Included diffused lighting component allows it to also inspect foil decorated print, holograms, embossed/debossed, and reflective/metalized surfaces. Unit is available on new 13 and 17 in. Rotoflex...
Read More »
Rotoflex Tooling (a division of Rotoflex International) now manufactures magnetic cylinders in Canada. With the increased demand for flexible dies, our customers need the shortest possible lead times. Companies just can't wait weeks for a magnetic cylinder - they need it yesterday. We now manufacture the magnetic cylinders in Canada - resulting in faster service, reduced downtime, and better...
Read More »