9825 S.W. Sunshine Ct.
Beaverton, OR 97005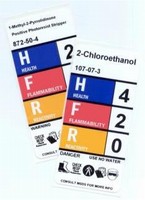 Measuring 1.4375 x 3 in., RTK labels for DuraLabel 4TTP printer can be printed and automatically tracked using database software. They feature color bar area that identifies level of health, flammability, and reactivity hazard. Chemical name and CAS number are printed at top of label, with signal word and specific hazard identified directly below color bar section. Water and UV resistant die-cut...
Read More »
To protect printer for transport, DuraLabel hard-side carrying case features metal reinforced padlock protectors, water- and dust-proof neoprene O-ring seals, automatic purge valve with Gore-Tex® membrane, and double throw latches. Along with side and front handles, it has 17 in. retracting extension handle for pulling on set of rugged, built-in wheels. Measuring 22 x 18 x 10.5 in., case...
Read More »