507 Plymouth Ave. N.E.
Grand Rapids, MI 49505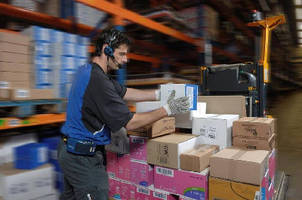 Combining laser guided pallet trucks with voice directed system, LaserTrucks+ eliminates non-value added tasks associated with typical case picking operation. At start of order, Laser Truck delivers new pallet directly to picker, automatically moves with voice-equipped picker as they verbally confirm picks, and transports completed pallet to shipping. Integrating LaserTrucks+ with WMS or ERP,...
Read More »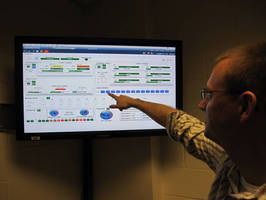 Upgrade programs for material handling systems, facilities, & operations Grand Rapids, Mich. (March 23, 2010) -Dematic Corp., supplier of logistics systems for the factory, warehouse and distribution center, has introduced a suite of modernization products and services designed to increase productivity and reduce operating costs. The offering includes a wide variety of solutions arranged in three...
Read More »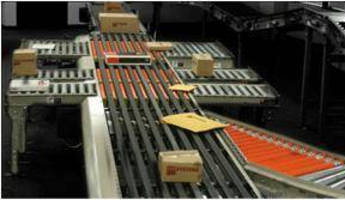 Designed to handle and sort packages ranging from 6-36 in. in length, MB100 offers rates exceeding 100 packages/min, enhancing pre-sorting, value add, kitting, pre-shipping, and shipping activities. Sorter is suited for automated transport of small products in wide range of industries such as parcel (small and flat), media (CDs, DVDs, books), food and beverage, wine and spirits, e-commerce,...
Read More »
New Dematic Multishuttle offering maximum performance and ultimate flexibility in logistics to Ferdinand Gross, a fastening components, tools, workshop supplies and factory equipment wholesaler Grand Rapids, Mich. (Tuesday, June 2, 2009) - Dematic Corp., the world's leading supplier of logistics automation solutions, systems and service, announced that Ferdinand Gross, a major European supplier...
Read More »
MILWAUKEE, WISCONSIN, MARCH 16, 2009 --- HK Systems, Inc., North America's leading automated material handling and supply chain software total solutions provider, today announces being selected by Macquarie University, Sydney, Australia, to provide an Automated Library System for their new state-of-the-art library. Currently under construction, the new library is the first Australian university...
Read More »
Featuring scalable design, Rapistan Modular Conveyor System can be configured with motorized rollers, standard ac drives, or variable frequency drives. Carton control is optimized through segmented belt conveying surface with automatic tracking and self-tensioning belts. Mounted onboard, controls are connected with CAN Bus, allowing parameters such as conveyor speed, accumulation mode, and sleep...
Read More »
Featuring multiple levels of AS/RS rack structure, carrier vehicles, buffer conveyors and software, Multishuttle provides product sequencing. Each level of rack structure includes input/output conveyor and carrier vehicle that travels horizontally to access loads stored in rack structure. Extraction device on each carrier vehicle accesses loads in rack. Load sequencing occurs as loads are...
Read More »
Able to readily transport 8-24 in. cases and totes, HK75/x series features scalable design with dual and independent lift carriages as well as dynamic shelving that maximizes space utilization. Automated storage and retrieval (AS/RS) machine, suited for applications requiring dense storage and high throughput for diverse set of SKUs, cases, and/or totes, supports various extractor mechanisms to...
Read More »
MILWAUKEE, WISCONSIN, October 7, 2008 -- HK Systems, Inc., North America's leading automated material handling and supply chain software total solutions provider, has been selected to provide a state-of-the-art Automated Library System (ALS) for the Joe and Rika Mansueto Library at the University of Chicago. This unique system will feature a traditional bin system for bound volumes together with...
Read More »