The Sherwin-Williams Company
6910 Biddulph Rd
Cleveland, OH 44115
Fast drying Envirolastic-® LT Primer is low-viscosity primer that can be applied in temperatures as low as 0-ºF. At 77-ºF, surfaces can be recoated after 1 hr, and at 40-ºF, surfaces can be recoated after 5 hr. Suited for use with polyurea and polyurethane topcoats, primer offers long pot life for brush/roll applications and minimizes likelihood of irregularities in coating film caused by...
Read More »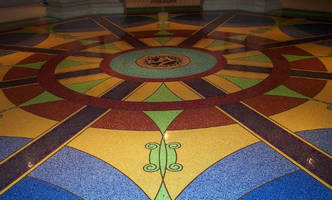 Containing less than 50 g/L VOCs, GP 4408/4409 WB Polyurethane Gloss/Satin topcoats can be used over concrete, terrazzo, or existing coatings in flooring projects. Both breathable, low-odor, waterborne polyurethane floor topcoats are chemically resistant and exhibit UV stability. Light foot traffic is acceptable within 8 hr for 4408 and 6 hr for 4409, and both products offer water-based cleanup...
Read More »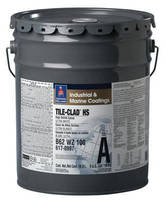 Supplied as 2-package industrial coating, Tile-Clad-® High Solids Mildew Resistant epoxy protects against mildew growth on exterior surfaces where dampness and humidity are of concern. It features gloss finish and is offered in variety of safety colors. Applications include clean rooms, laboratories, institutional kitchens, and chemical processing equipment where mildew growth must be guarded...
Read More »
Green in 188 Colors: New RAL Color Powder Program Features Broad Range of Colors (INDIANAPOLIS- September 23, 2008) - Metal finishers looking for color solutions and greener coating options can benefit from Sherwin-Williams new POWDURA® RAL Powder Program, with 188 solid, high gloss colors in Super Durable Polyester technology, a cutting-edge, TGIC-free polyester powder coating formulated to...
Read More »
Technology Offers Important Performance and Application Benefits for Metal Finishers (INDIANAPOLIS- September 23, 2008) - New from Sherwin-Williams is POWDURA® Super Durable TGIC-Free Polyester, an innovative, powder coating technology formulated to provide a greener coating solution with significant performance and application advantages for metal finishers. Sherwin-Williams POWDURA® Super...
Read More »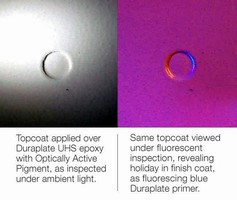 Fluorescing Formula Eliminates Coating Guesswork in Potable and Non-Potable Water Tanks, Ballast Tanks, Oil Tanks and Refined Fuel Storage Tanks CLEVELAND, Ohio (August 19, 2008) - Sherwin-Williams Protective & Marine Coatings now offers its Opti-Check(TM) Optically Active Pigments (OAP) in a variety of coatings products, allowing tank lining applicators to check the coating instantly for...
Read More »
Company's national distribution system called for formulations it could sell in environmentally conscious Southern California CLEVELAND (August 4, 2008) - A patchwork quilt of tightening environmental regulations governing the air emissions from protective coatings - also known as industrial maintenance coatings - can be challenging for specification writers, especially when so many changes are...
Read More »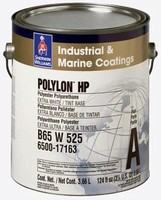 Suited for interior/exterior use in industrial, marine, and commercial applications, Polylon HP Polyurethane provides high gloss and color retention as well as resistance to chemicals, abrasion, and impact. High-solids solution, with VOC level under 250 g/L, comes in range of colors as 2-component polyester-aliphatic urethane coating. It is also resistant to splashes, spillage, and fumes from...
Read More »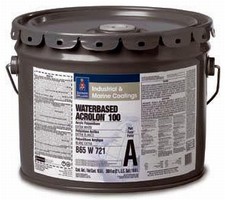 Featuring Ozone Transport Commission (OTC)-compliant and Hazardous Air Pollutant (HAPS)-free formulation, Waterbased Acrolon 100 retains appearances over range of chemical, weather, and mechanical conditions. It is environmentally friendly, has VOC level under 100 g/L, and promotes color and gloss retention. Along with various marine and industrial applications, areas of use can include...
Read More »