Wireless Data Logger features BLE radio link.
Press Release Summary: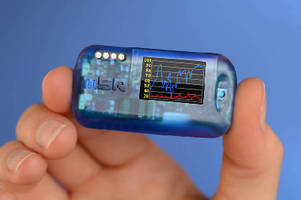 December 10, 2013 - Featuring Bluetooth Low Energy, Model MSR145WD is suited for applications that require monitoring of measured data from locations that are difficult to access. MSR SmartCloud facilitates storage of measured data on server via Internet, allowing user to view, print, or download values to PC for detailed analysis, wherever they are. Equipped with color OLED display and 1,000,000-value memory, logger offers choice of standard or waterproof construction and 250 or 800 mAh rechargeable battery.
Original Press Release
Now Available: the New MSR145WD Wireless Data Logger by MSR Electronics
Press release date: November 28, 2013
Seuzach – Versatile, the size of a thumb, with display and Bluetooth Low Energy: the MSR145WD combines the qualities of the well-established MSR145 USB data logger with the advantages of modern wireless technology.
The new wireless data logger by the Swiss technology company MSR Electronics GmbH, which was presented still as a prototype at the Sensor+Test 2013 Measurement Fair in Germany, is officially available to purchase with effect from this month. On the one hand, the first wireless data logger in the series of miniaturised data loggers by MSR relies on the proven qualities of the MSR145 USB logger, which is already established on the market. This data logger was launched five years ago as the World's first miniaturised universal data logger and has been continuously refined since then. On the other hand, the new MSR145WD logger takes advantage of the benefits of the wireless radio technology in order to facilitate applications, which were not feasible using the previous MSR models.
BLE for greater measurement mobility
The BLE wireless radio link (Bluetooth 4.0 Smart) is particularly advantageous for applications that require monitoring of measured data from locations that are difficult to access, such as machine rotations or climate data in a display cabinet. Wendelin Egli, CEO of MSR Electronics GmbH explains: "BLE allows the user immediate data visualisation irrespective of the location. Our smartphone app can be used to recall the current and last recorded values at any time on the smartphone, receive alarm messages via MSR SmartCloud and, if required, share data from multiple MSR145WD data loggers with a team any time."
MSR SmartCloud as a new service
MSR SmartCloud facilitates the storage of measured data on a server via the Internet, allowing the user to view, print or download the measured values of their data loggers to a PC for a detailed analysis, wherever they are. If required, the user can grant further participants access to his/her measured data with a personal MSR SmartCloud login, thus facilitating efficient and easy co-operation. The user-friendly MSR SmartCloud can notify the user of incoming alarms via text messages and e-mail. Depending on the data logger type and existing infrastructure, measured data can enter the MSR SmartCloud in different ways: wireless using BLE via a smartphone, PC or the BLE receiver box by MSR Electronics GmbH. A further possibility: connection via a PC using a USB cable.
Fast readings of measured values: MSR145WD with brilliant OLED colour display
For a compact representation of data and graphic charts, the MSR145WD is equipped with a colour OLED display. The high screen resolution enables the user to easily read measured values, even in total darkness and from virtually any viewing angle.
Proven modular system for the MSR145WD
Like all previous mini data loggers by MSR Electronics GmbH, the new wireless data logger can be custom assembled. The customer has the choice between a standard variant and a waterproof version; he/she can decide on a rechargeable 250 mAh or 800 mAh battery and select which internal and external sensors he/she wants to equip the logger with. The MSR145WD, which is merely the size of a thumb, is currently equipped with a memory of over 1,000,000 measured values. A memory extension is under way, as is a port for analogue inputs. More information:
http://www.msr.ch/en/product/msr145wd.php
About MSR Electronics GmbH
The core competency of MSR Electronics GmbH is the development and production of miniature universal data loggers for a wide range of applications. Among MSR Electronics GmbH's customers are well-known companies such as Alstom, BMW, Carl Zeiss, Decathlon, EMPA, Fein, Festo, Novartis, Oerlikon Balzers, Osram, Robert Bosch, Siemens, W.L. Gore & Associates, V-Zug and many more.
Please do not hesitate to contact us for further information.
MSR Electronics GmbH
Wendelin Egli, CEO
Mettlenstrasse 6
CH-8472, Seuzach, Switzerland
Tel. +41 52 316 25 55
Fax +41 52 316 35 21
info@msr.ch
www.msr.ch