Product News: Test & Measuring Instruments
Wi-Fi Enabled DataLogger records temperature and humidity.
Press Release Summary: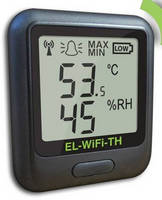 July 30, 2012 - Rated IP55 and able to log 500,000+ data set entries, EasyLog Wi-Fi temperature and humidity data logging sensor is 802.11b-compliant and offers direct-to-USB connection. Programmable solution, able to record temperatures from -4 to +140°F, operates on rechargeable internal lithium polymer battery and lets users set sample and upload rates as well as alarm levels. Integrated display shows Max and Min temperature and RH readings, battery indicator, WiFi connection strength, and alarms.
Original Press Release
CAS DataLoggers Offers Affordable WiFi Monitoring
Press release date: July 17, 2012
New Low-Cost WiFi Temperature & Humidity Data Logger
CHESTERLAND OH-CAS DataLoggers has partnered with Lascar Electronics to offer the new WiFi Temperature & Humidity Data Logging Sensor with WiFi capability and integrated display. Easily programmable and made to fit any budget, this wireless solution is ideal for your temperature and humidity monitoring project in any field, including food and pharmacy storage, refrigerator and freezer monitoring, warehousing, recording on factory and museum floors, and more. Part of the EasyLog range of low-cost USB dataloggers, the new WiFi logger features the direct-to-USB connection and user-friendly functionality that the range is popular for. Convenient wireless monitoring has never been more affordable.
This data logging sensor measures the temperature and humidity of its environment and features Wireless connectivity to a PC via WiFi. Recording temperature at a range of -20°C to +60°C (-4°F to +140°F), the datalogger is rated IP 55 to ensure it keeps logging even in extreme industrial environments. Once in the field, the datalogger wirelessly transmits its data via WiFi network to a PC where it can be viewed using a free software package--just connect the sensor to a PC for initial setup, choose your preferred WiFi network, sample and upload rates, and alarm levels. Alarm breaches are instantly registered on both the display and the PC screen by audible alert and visual indication, keeping you on top of any environmental changes.
Lightweight and compact to fit anywhere you need to monitor, this 802.11b-compliant datalogger stands by itself on any horizontal surface and includes a wall bracket that can be screwed onto a wall or flat surface. The sensor features a display allowing you to view the strength of the WiFi signal and find the best sensor placement. The display also shows the Max & Min temperature and RH readings, a low battery indicator, a WiFi connection indicator, and the configurable high and low alarms.
Capable of logging more than 500,000 data set entries, the new datalogger will automatically store readings in internal memory if the WiFi network is lost, until it is able to communicate again with the PC application (max 2 months at 10-second sample interval). Once the network is restored, it will then upload all readings to the PC. You can easily increase the range of the sensor by using WiFi extenders. This low-powered device operates on a rechargeable internal lithium polymer battery. When configured using typical sampling periods (for ex. once every 60 seconds) the sensor will keep logging for over one year, and the battery can then be recharged via PC or a USB +5V wall adapter using the micro USB lead provided, and is protected against charging outside safe temperature ranges.
It's easy to setup the sensor using the FREE PC software. Users can view and analyze multiple sensors using the PC application with all devices viewable simultaneously on the host PC. Users can also view immediate graphing of historic data. When installed on the PC, the software allows set-up, data logging and data review. Set-up features will include sensor name, °C/°F, sample rate, and high/low alarms. Once configured, historic data can be viewed via the graphing tool or exported into Excel, making your data organized and highly accessible.
For more information on the new WiFi Temperature and Humidity Datalogger, other economical Lascar dataloggers, or to find the ideal solution for your application-specific needs, contact a CAS Data Logger Applications Specialist at (800) 956-4437 or visit the website at
www.dataloggerinc.com
.
Contact Information: CAS DataLoggers, Inc. 12628 Chillicothe Road Chesterland, Ohio 44026 (440) 729-2570 (800) 956-4437 sales@dataloggerinc.com
www.dataloggerinc.com