Product News: Welding Equipment & Supplies
Welding System suits push-pull aluminum welding.
Press Release Summary: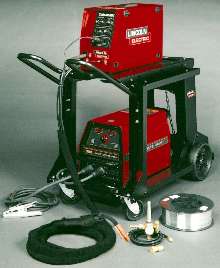 May 6, 2003 - Ready-Pak(TM) K2145-2 package includes Invertec(TM) V350-PRO Advanced Process Model with pulsed MIG welding capability, Cobramatic® wire-feeder cabinet, Python® push-pull gun, regulator and hose, 16 lb wire spool, and required cables. With 350 A @ 60% duty cycle, inverter-based welding system welds thin sheet metal material as well as heavy aluminum and stainless or steel plate projects. It is suited for pulse or non-pulse welding applications in manufacturing and job shop fabrication.
Original Press Release
Lincoln Electric Offers New Ready-Pak(TM) System for Pulsed Aluminum Welding
Press release date: April 1, 2003
Most Advanced Welding System on the Market for Push-Pull Aluminum Welding Cleveland, Ohio -- The Lincoln Electric Company introduces its newest Ready-Pak(TM), which includes the Invertec(TM) V350-PRO Advanced Process Model with pulsed MIG welding capability, the newly redesigned Cobramatic wire feeder cabinet and the new Python push-pull gun. This combination provides a package with the most current technology available on the market for critical push-pull aluminum welding. However, not only is this inverter-based welding system capable of welding difficult thin sheet metal material, but with 350 amps @60 percent duty cycle, the V350-PRO is powerful enough to handle many heavy aluminum, stainless or steel plate projects. Select this package for difficult pulse or non-pulse welding applications in manufacturing and job shop fabrication. In addition to superb welding performance, the entire package is available by ordering just one product number. The K2145-2 package includes: o Invertec V350-PRO Advanced Process Model o Inverter and Wire Feeder Cart o Cobramatic Cabinet o Harris Flow Meter Regulator and Hose o Python Gun o 16 lb. spool SuperGlaze 3/64" 5356 wire o Power Cable for Feeder and Work Cable Here are the elements that make this system a 'must-have' for welding aluminum: Power Source The Invertec V350-PRO Advanced Process Model features an integrated control panel, which eliminates pulse pendant confusion and cable clutter. It is perfect for welding aluminum, steel, or stainless. This power source provides the widest output range in its class from 5 to 425 amps, and is rated at 350 amps at 60% duty cycle. It produces either a constant current or constant voltage welding output for Stick, TIG, MIG, Pulsed, Power Mode(TM) or Arc Gouging. For MIG welding, the Invertec V350-PRO provides selectable arc control for a soft or crisp arc when using different types of wires. In addition, this Advanced Process Model features welding modes for Pulse, Pulse on Pulse(TM) and Power Mode(TM). For example, Pulse-on-Pulse controls heat input on aluminum sheet metal to deliver a forgiving arc for less experienced operators. It also allows the V350-PRO to handle poor fit-up well. Cobramatic The Cobramatic Push-Pull Wire Feeder cabinet has recently been updated with new features to provide even better wire feeding performance. The improved unit still provides the attributes that operators have come to expect from the Cobramatic wire feeder cabinet, including superior feeding with push-pull wire technology, which virtually eliminates friction in the line for smooth feeding and minimized damage to the wire. Python Gun The new Python gun features an ergonomic handle design with the weight distribution equally balanced front to back for better feel and control. The unit has fingertip controls and simplified set-up and adjustments with multi-turn wire feed speed adjustment on the bottom and flip-up drive roll cover at the top. A patented EZ-Lock system allows users to change or rotate barrels anytime. The Lincoln Electric Company, Cleveland, Ohio, is a world leader in the design and manufacture of arc welding equipment and consumables, robotic welding systems, plasma and oxyfuel cutting equipment. For more information on the Invertec V350-PRO / Cobramatic Ready-Pak, please request brochure E5.91 by contacting The Lincoln Electric Company at 22801 St. Clair Avenue, Cleveland, OH 44117-1199, via phone at 1-888-355-3213 or at the company's web site:
www.lincolnelectric.com
. Cobramatic and Python are registered trademarks of MK Products, Inc.