Product News: Material Handling & Storage
Weather Seal Loading Station enhances quality and repeatability.
Press Release Summary: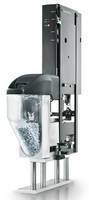 December 18, 2013 - Used to automatically apply weather seals to wire ends, SealLoad 3100 employs belt conveyor that carefully carries seals from storage container. SealKit has transparent storage container and can be equipped with optional Seal Level Monitor, and optional adapter enables use of existing seal kits from third party suppliers. Via complete software integration into CrimpCenter EASY interface, user can set up and control SL 3100 directly from CrimpCenter UI.
Original Press Release
SealLoad 3100: Precise Weather Seal Loading Station
Press release date: December 1, 2013
The new SealLoad 3100 seal loading station applies weather seals to wire ends automatically. This new machine features a novel seal feeding system, excellent quality and repeatability, significantly higher productivity, increased user-friendliness, low energy consumption, and a new design.
The field proven components of the SLU 3000 (previous model) have been combined with new technologies. The new SealLoad 3100 seal loading station reaches the highest level of productivity and precision. Efficient processing requires quick, trouble-free conveyance of the seals. The new belt conveyor carefully conveys the seals from the storage container quickly and reliably. The seal storage volume is now twice as large compared to the SLU 3000, enabling longer intervals between fillings. The new SealKit has a transparent storage container and can be equipped with the optional Seal Level Monitor.
Compared to its predecessor, the SealLoad 3100 has been optimized and equipped with a broader range of capabilities to apply longer, wider, and smaller seals at higher production rates. The total cycle time of the new SL 3100 has been reduced by 27% and the changeover time by 25%.
An optional adapter enables the customer to use existing seal kits from third party suppliers, minimizing their investment for new production equipment. Using the setup gauge, the AdapterKit and the existing 3rd party feed track can be prepared in advance outside of the production machine. This ensures that there are no interruptions in production and leaves the feed tracks unmodified so they can still be used with their original third party supplier machines at any time. This feature provides great flexibility that translates into higher efficiency. The SealLoad 3100 is fully integrated into the Schleuniger CrimpCenter family. The design of the SealLoad 3100 is optimized for the CrimpCenter and requires minimal space due to its narrow design.
With complete software integration into the CrimpCenter EASY interface, the user can set up and control the SealLoad 3100 directly from CrimpCenter user interface. Error messages and assistance are presented in the information window and are easy to understand. A complete diagnostics tool enables the technician to control every aspect of the SealLoad 3100 including monitoring and testing of all input and output signals.
Customer Benefits:
• Full integration with the CrimpCenter family
• Quick & precise seal loading
• Energy efficient & careful conveyance of the seal
• Short changeover times
• Easy replacement of the SealKits
More information about this new product can be found at
www.schleuniger-na.com
. Should you have any questions, please e-mail
sales@schleuniger.com
or call (603) 668-8117.
The Schleuniger Group in Thun is a globally active technology company and a leading supplier in the Wire Processing industry. Customers of the Schleuniger Group primarily supply the automotive, entertainment, and information industries as well as the communication sector. Schleuniger products are used whenever precise wire processing plays a role.
Development and production are located in Switzerland, Germany, and China. Schleuniger is always close to its customers - with four Sales and Service companies in the US, Germany, China, and Japan as well as with 40 distributors worldwide.
The Schleuniger Group represents the independent Business Unit Wire Processing of the listed Metall Zug Group and has about 500 employees and 30 trainees worldwide.