Product News: Architectural and Civil Engineering Products
Wall-Mounted Frame provides compact storage solution.
Press Release Summary: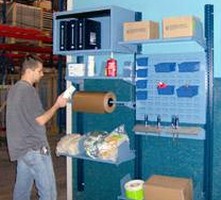 May 2, 2006 - With proper anchors and strong wall, multipurpose frames offer 300 lb capacity for storing objects using wall space (up to 500 lb with set of 3 frames). Products measure 72 in. high and can be cut in two 36 in. frames or four 18 in. frames. Perforated every 1 in. for adjustment of accessories, frames can be combined with accessories such as overhead workstation lights, louvered panels for plastic bins, and overhead tool rails.
Rousseau Metal, Inc. - Saint-Jean-Port-Joli, QC, CAN
Original Press Release
The Rousseau Multi-Purpose Wall Mounted Frame
Press release date: April 24, 2006
Rousseau has come up with a solution that can help you store objects by using the wall space of your company. With proper anchors and a strong wall, these frames have a 300-pound capacity, or up to 500 pounds with a set of 3 frames. The frames are 72" high and can be cut in two 36'' frames or in four 18" frames. They are perforated at every 1'' c/c for optimum adjustment of accessories. Can be combined with many accessories such as: Overhead workstation lights; Louvered panels for plastic bins; Overhead tool rails and much, much more.
CONTACT INFORMATION: J.F. Houle Marketing Communications Agent Toll Free: 866-463-4270 Email: info@rousseaumetal.com
TECHNICAL CONTACT INFORMATION: Diane Tremblay Phone : 1-800-463-4271 E-mail : usacustomerservice@rousseaumetal.com
Rousseau Metal Inc. Telephone : 418-598-3381 Fax : 418-598-6776 Toll Free: 800-463-4271
www.rousseaumetal.com