VoIP Traffic Analysis Tool offers detailed, real-time monitoring.
Press Release Summary: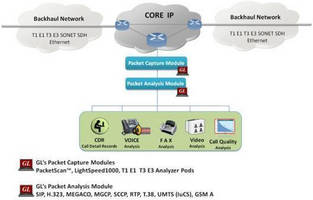 February 18, 2014 - Distributed with GL packet analyzers, Packet Data Analysis (PDA) provides tool for for live monitoring of signaling and traffic over IP. Capabilities include detailed capture, analysis, and reporting, and supported is provided for multiple protocols. Users can listen/record audio and video data of calls in real-time; perform power, frequency, spectral, tones, digits, and video analysis; and get precise picture of QoS and technical adherence of system under test.
GL Communications Inc. - Gaithersburg, MD
Original Press Release
GL Enhances Traffic Analysis Tool for Voice Over IP
Press release date: February 6, 2014
Gaithersburg, Maryland, USA – GL Communications Inc announced today its enhanced Traffic Analysis Tool for Voice over IP called Packet Data Analysis (PDA).

Speaking to reporters, Mr. Karthik Ramalingam, Manager Product Development of the company said, "GL's Packet Data Analysis (PDA) is an outstanding too for live monitoring of signaling and traffic over IP. Packet Data Analysis (PDA) is distributed with GL's Packet Analyzers, allowing users to monitor live IP networks including capture, analysis, and reporting of every call in detail. Supported protocols include SIP, MEGACO, MGCP, H.323, SCCP, RANAP (UMTS IuCS), and GSM A.

GL's Packet Analyzers can capture IP packets over different transmission lines, including - IP, T1, E1, T3, E3, and OC-3 STM-1 / OC-12 STM-4. PDA then processes the captured packets, identifies, and segregates calls based on signaling and traffic parameters."

He added, "Users can listen/record audio and video data of calls in real-time; perform power, frequency, spectral, tones, digits, and video analysis with ease and precision; get an exact picture of QOS (quality of service) and the technical adherence of the system under test (adherence to the protocols specified by the standardizing authority)."

Mr. Ramalingam further added, "Detailed call statistics include packet loss, gap, jitter, delay, RTP performance statistics, R-factor & MOS scores, and unparalleled voice band statistics. Sophisticated filters permit zooming and recording of specific calls of interest. All or filtered traffic can be recorded into a trace file."

Important Features

• RTP Packet Statistics and Call Flow Ladders
• Performance Metrics
• Audio & Video Analysis – Recording, Play to speaker
• T.38 Fax over IP Analysis
• Triggers and Actions
• CDR Report Generation
• Acts as Probe in Network Monitoring System

About GL Communications Inc.,
Founded in 1986, GL Communications Inc. is a leading supplier of test, monitoring, and analysis equipment for TDM, Wireless, IP and VoIP networks. Unlike conventional test equipment, GL's test platforms provide visualization, capture, storage, and convenient features like portability, remotability, and scripting

GL Communications has over the years worked with major telecom equipment vendors (EVs) and system integrators to meet the testing requirements arising at various stages of telecommunications product development life cycle.

With its proven expertise of over 25 years, GL has a comprehensive suite of telecom testing solutions to verify and ensure 'quality and reliability' of variety of telecom networks including Wireless, and high-speed fiber optic lines.

GL's test tools range from simple PC-based software test tool to all-encompassing hardware units with futuristic expansion capabilities.  GL's test solutions cover wide array of networks – 4G (LTE), 3G, IP, Ethernet, T1, T3, E1, E3, OC-3/STM-1, OC-12/STM-4, and traditional PSTN networks.

GL's tools are widely used by the telecommunication industry for conformance testing, automated stress/load testing, performance testing, remote accessibility, centralized web-based control and analysis, fault testing and analysis, and customized testing.

For more information about GL's complete line of products,

Contact:

Shelley Sharma
Phone: 301-670-4784 ext. 114
E-mail: info at gl.com