Vision Sensor targets automotive active safety systems.
Press Release Summary: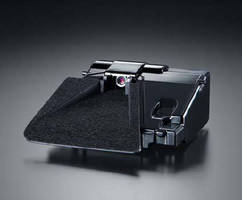 July 31, 2012 - Utilizing low-processing load algorithm that only requires high-temperature resistant, general-purpose microcomputer as opposed to image-processing ICs, Vision Sensor is intended for automatic high beam (AHB) control and lane departure warning (LDW) systems. Sensor is equipped with full-color camera, which allows LDW system to detect lane lines in various colors worldwide, and also enables AHB control systems to distinguish tail lights of vehicle ahead from other light sources.
Original Press Release
DENSO Develops New Vision Sensor for Active Safety Systems
Press release date: July 25, 2012
The World's Smallest Sensor Designed for Use in Lane Departure Warning and Automatic High Beam Control Systems KARIYA (Japan) - DENSO Corporation has developed a new vision sensor that is 50 percent smaller than the company's previous sensor. The new sensor, which is used in active safety systems with Automatic High Beam (AHB) Control Systems*1 and Lane Departure Warning (LDW) Systems*2, is the world's smallest*3 of its kind. In addition, the sensor can perform at a higher operating temperature compared to the previous model, making this the greatest operating temperature range in the world*4. Why make vision sensors smaller and operational at higher temperatures? Typically, vision sensors are mounted on the upper edge of the windshield near the rear view mirror. Because of the location, DENSO engineers focused on reducing the sensor's size. In addition, for the new sensor to better operate in hotter climates and regions, DENSO also needed to focus on increasing the sensor's maximum operating temperature. To address these two challenges, DENSO developed a low-processing load and high-performance algorithm, which only requires a high-temperature resistant, general-purpose microcomputer as opposed to image-processing integrated circuits (ICs), which are generally required for vision sensors for both LDW system and AHB system. Eliminating these ICs allowed the sensor size to be reduced, which also allowed for an increase in the maximum operating temperature. Full-color Camera
DENSO's new sensor is equipped with a full-color camera as opposed to a monochrome camera, which allows the LDW System to detect lane lines markings in various colors around the world. This also allows the AHB Control systems to easily distinguish the tail lights of the vehicle ahead from other light sources. This new vision sensor is available as a factory option for the Lexus ES, which is launched in China this July, and then later in North America, Russia, the Middle East, as well as other regions of the world. DENSO will progressively make the new sensor available for a greater number of vehicle models. In an effort to realize an accident-free automotive society, DENSO has developed and commercialized both passive and active safety technologies to protect vehicle occupants, as well as to prevent traffic accidents. Based on the technologies it has developed, DENSO will continue toward a safe and reliable automotive society for all people in the world, including drivers and pedestrians. DENSO Corporation, headquartered in Kariya, Aichi prefecture, Japan, is a leading global automotive supplier of advanced technology, systems and components in the areas of thermal, powertrain control, electric, electronics and information and safety. Its customers include all the world's major carmakers. Worldwide, the company has more than 200 subsidiaries and affiliates in 35 countries and regions (including Japan) and employs over 120,000 people. Consolidated global sales for the fiscal year ending March 31, 2012, totaled US$38.4 billion. Last fiscal year, DENSO spent 9.5 percent of its global consolidated sales on research and development. DENSO common stock is traded on the Tokyo and Nagoya stock exchanges. For more information, go to
www.globaldenso.com
, or visit our media website at
www.densomediacenter.com
* 1. Systems to alert the driver when the vehicle is crossing the lane boundary to help avoid accidents caused by carelessly changing lane
* 2. Systems to automatically switch between high and low headlight beams according to the presence or absence of preceding or oncoming vehicles to increase the driver's visibility at night and avoid dazzling other motorists
* 3. As of July 2012 (research by DENSO)
* 4. As of July 2012 (research by DENSO)