Product News: Computer Hardware & Peripherals
Video Signal Processor ICs optimize small LCD picture quality.
Press Release Summary: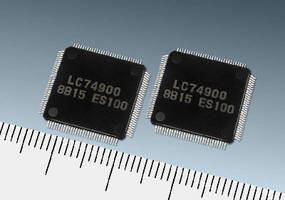 January 16, 2013 - Capable of supporting resolutions up to WVGA, Model LC749000PT is suited for automotive applications, while Model LC749000AT targets consumer products. Integrated ADC receives direct analog picture signal inputs from camera, while decoding circuit decodes analog signals in NTSC and PAL formats. Size of decoded picture signal is then adjusted according to resolution of connected LCD panel by de-interlacer/scaler. Built-in programmable timing controller transfers RGB output to LCD panel.
Original Press Release
ON Semiconductor's New Video Signal Processor ICs Reduce Power Consumption and Enhance Picture Quality for Small LCD Panels
Press release date: January 10, 2013
Energy efficient devices ideal for small LCD screen applications such as vehicle reversing cameras and home security system monitors

PHOENIX, Ariz. –  ON Semiconductor (Nasdaq: ONNN), driving innovation in energy efficiency, has released two new highly integrated image signal processor ICs ideal for use in applications such as vehicle reversing cameras, in-vehicle navigation systems and various consumer video monitoring security systems where small LCD screens are utilized. The LC749000PT for automotive applications and the LC749000AT for consumer products, support important end application energy savings and utilize advanced signal technology to improve the picture quality of digitally compressed images.

Capable of supporting installations with screen resolutions up to Wide Video Graphics Array (WVGA), the LC749000PT and LC749000AT integrate an analog to digital converter (ADC) which receives direct analog picture signal inputs from a camera. The built-in picture decoding circuit is able to decode analog picture signals in both NTSC and PAL formats. The size of the decoded picture signal is then adjusted according to the resolution of the connected LCD panel by a de-interlacer / scaler to enhance the picture quality. The 24bit RGB output or 18bit RGB output with dithering function is then transferred to the application LCD panel by a built-in programmable timing controller.

ON Semiconductor's new image signal processor ICs incorporate features designed to optimize the displayed image. These include a scaler which scales video output to the correct display resolution automatically and a calibration function which makes rough gradients smooth. Meanwhile, a built-in dynamic gamma feature helps to improve low light visibility and display contrast in video and camera applications used in variable light conditions. Programmable gamma allows fast, easy and convenient calibration of LCD panels.

Both new devices feature a built-in onscreen display (OSD) function which allows text characters to be superimposed on the picture data. These devices also have a built-in OSD switch that achieves more advanced graphical overlays by employing an additional graphics IC. Meanwhile, pulse width modulation (PWM) supports adaptive LED backlight control functionality that can help yield valuable application power savings of approximately 35 percent. The LC749000PT and LC749000AT are controlled by an external microcontroller via an I2C or serial peripheral interface (SPI). Hardware-driven picture processing minimizes the burden on the software of the microcontroller and in vehicle camera applications. External fast EEPROM booting ensures that the LCD panel is operational immediately after the vehicle engine is switched on – an important feature for rear back-up cameras and many other non-automotive applications.

"Vehicle reversing cameras and many other small screen LCD applications – for both automotive and non-automotive electronics – are becoming increasingly popular," said Hideya Ohashi, general manager of ON Semiconductor's SANYO product division." With this demand, come increasingly stringent performance requirements regarding image clarity in order to maximize the application benefits including safety. In addition, there is the challenge of reducing power consumption, especially in automotive systems to minimize the power burden on the battery. ON Semiconductor's new image signal processor ICs meet both sets of demands and are supporting the faster adoption of this important area of technology."

Packaging and Pricing
The LC749000PT and LC749000AT are offered in a lead-free and halogen-free TQFP 120-pin package and budgetary priced at $8.00 USD per unit in quantities of 1,000 units.

About ON Semiconductor
ON Semiconductor (Nasdaq: ONNN) is driving innovation in energy efficient electronics, empowering design engineers to reduce global energy use. The company offers a comprehensive portfolio of power and signal management, logic, discrete and custom solutions to help customers solve their unique design challenges in automotive, communications, computing, consumer, industrial, LED lighting, medical, military/aerospace and power supply applications. ON Semiconductor operates a responsive, reliable, world-class supply chain and quality program, and a network of manufacturing facilities, sales offices and design centers in key markets throughout North America, Europe, and the Asia Pacific regions. For more information, visit http://www.onsemi.com.

ON Semiconductor and the ON Semiconductor logo are registered trademarks of Semiconductor Components Industries, LLC. All other brand and product names appearing in this document are registered trademarks or trademarks of their respective holders. Although the company references its Web site in this news release, such information on the Web site is not to be incorporated herein.

Contacts

Katsuya Ito                                                                          
Media Relations - Japan                                                   
ON Semiconductor's SANYO division                            
+81-(276) 61-8506                                                             
Katsuya.Ito@onsemi.com                                                

Anne Spitza
Corporate Communications – Global
ON Semiconductor
+1(602) 244-6398
Anne.spitza@onsemi.com