Product News: Controls & Controllers
Vector Control Inverter employs sensorless technology.
Press Release Summary: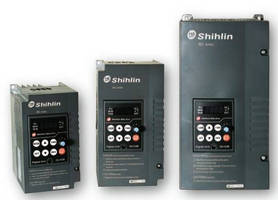 July 21, 2011 - Featuring output frequency up to 1,000 Hz, SE2-series adopts high-efficiency speed sensorless vector control technology to enhance overload capacity to 200% (1 sec) as well as reduce inverter tripping potential. Built-in EMC filters effectively reduce electromagnetic disturbance and promote conformance to standard specifications of EN61800-3. Series can also be safely implemented in impact load applications and is suitable for high-speed motor applications.
Original Press Release
Sales Boosted by Shihlin Electric's Next Generation Inverter
Press release date: July 15, 2011
Shihlin Electric Group was established in 1955 with headquarter located in Taipei, Taiwan. The company has offered a wide range of services that cover the areas of power distribution system, automobile equipment, low-voltage electrics, factory automation, and system engineering. The products of Shihlin Electric, including universal circuit breaker, molded case circuit breaker, mini circuit breaker, contactor, thermal overload relay, surge protection device, automatic transfer switch, power transformer, switch cabinet, high-voltage switch, capacitor, programmable controller, inverter, human-machine interface, servo motors & drives, temperature controller, sensor, car alternator, starter motor, etc., are famous for their excellence in quality, which are well appreciated by the clients in the industries. In view of the continuous industrial and technological advancement, Shihlin Electric established the Automation Business Group in 1984 to search for talents in advanced technology and management. The main objective of Automation Business Group is to provide automation equipment for the industries and to help the development of industries toward automation, technologization and digitization. The Shihlin Automation Business Group is one of the well-known manufacturers in Taiwan capable of providing the client a complete set of industrial automation products including Programmable Logic Controller (PLC), Human-Machine Interface (HMI), Temperature Controller, Inverter (AC Drives). The Automation Business Group of Shihlin Electric was founded initially as an agent for selling Mitsubishi's Programmable Logic Controller (PLC) 27 years ago, as well as inverters, AC servo motors & drives in followings years, . To achieve sustainable operation, it began the development and manufacturing of the next generation Shihlin Electric inverter that has the advantages of high efficiency and compact design. Later, the Automation Business Group employed the high-speed SMT automated production line as well as the high-precision testing equipment (i.e., ICT), and began the development of novel Human-Machine Interface (HMI), AC Drives, etc. Based on the accumulated experience in technology R&D, the Automation Business Group of Shihlin Electric has become a key automation products and service provider. The Automation Business Group of Shihlin Electric has been developing and manufacturing inverter for more than 10 years. Currently, there are over 7 series of Inverters (AC Drives) being developed. Inverters (AC Drives) have been widely used for altering the speed of motors in various applicable industries. Apart from that, energy-saving is one of the important characteristics of the inverter that has often been highlighted due to the rising concern of global energy-shortage issue recently. Therefore, energy-saving is one of the key markets for the inverters developed by Shihlin Electric. The applications of Shihlin Electric inverters include air conditioning system, pumps, constant pressure water supply, and injection molding equipment, etc. Owing to the accumulated experience in the R&D of driving related equipment, the Automation Business Group of Shihlin Electric continues to make new records for the development of novel products in recent years, resulting in the release of several high-performance inverters in the market. The newly released Shihlin Electric SE2-series inverters adopt the high-efficient speed sensorless vector control technology to enhance the overload to 200% 1 second and effectively reduce the chance of inverter tripping. This type of inverter can also be safely implemented in impact load applications (i.e., punching machine, crown wheel, trolley, screw machinery, and tool machine). The output frequency of Shihlin Electric SE2-series inverters can reach to 1000Hz, which is suitable for high-speed motor applications such as carving machine, grinding machine, and centrifugal machine. The SE2-series inverters have built-in EMC filters to effectively reduce the electromagnetic disturbance and conform to standard specifications of EN61800-3. The continuous release of the new Shihlin Electric inverters has boosted the sales of the Automation Business Group in the market for driving related equipment. The Automation Business Group of Shihlin Electric will not only keep on expanding the inverter markets in Taiwan and Mainland China, but also markets overseas, which include Southeast Asia, South Asia, Middle East, Eurasia, and East Europe regions. This will provide the overseas clients with high quality and cost-competitive industrial automation equipment such as the Inverter (AC Drives), Temperature Controller, and Human-Machine Interface (HMI). Shihlin Electric & Engineering Corporation Details at website:
www.seec.com.tw/en/product/product_list.asp?pno=169
Tel : 886-3-5995111 Fax: 886-3-5907173 Contact Email : sherry@seec.com.tw, hou@seec.com.tw