Product News: Controls & Controllers
Variable Speed AC Drives feature a removable memory chip.
Press Release Summary: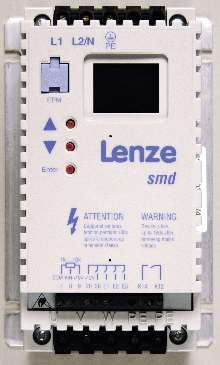 July 29, 2003 - Offering controlled start-up and overload protection, smd Series drives incorporate removable memory chips and desktop programming modules that reduce programming and service time. Controls on front are provided for speed adjustment and basic programming. Additional features include adjustable slip compensation, voltage boost, and DC injection braking.
Original Press Release
High Profile Launch for New Drive Product
Press release date: July 21, 2003
UXBRDIGE, MA- July 21, 2003- Lenze's new 'smd' Series AC drives range was launched at London's Gaydon Motor Museum this month, with a back drop of James Bond's considerably more expensive choice of drive. The event was the initial stage of a rollout across Europe and the rest of the world that include product training and large-scale stocks for the fast moving product. The smd brings increased functionality and efficiency; including very compact units, fast programming, as well as a breakthrough in existing price barriers.
Based on proven technology from USA company, AC Technology, a member of the Lenze group, the new smd drives have been developed for engineers and designers who have long been aware of the benefits of variable speed drives (VSDs) but had been prevented from using them due to the cost and complexity of fitting VSDs into existing systems. The smd is now a viable option and offers the advantages of controlled start up, overload protection, reduced mechanical wear, as well as improved speed and positioning capabilities in many more applications.
David Reece, AC Technology's Vice President of Sales and Marketing explains "The general purpose drives that have been the hallmark of AC Technology's success in the industry fit very well in the overall range of Lenze power transmission products", and he continues, "We're excited to be important contributors to the Lenze family of solutions with our practical, affordable line of Variable Speed Drives."
Tony Pickering, International Sales Manager for AC Tech added that by using AC Tech innovations in the smd design, "Lenze has been able to address sectors of the market that would not have previously used AC drives thanks to its suitability for simpler motor control applications. For example, the drives feature a removable memory chip and desktop programming module. This can cut programming and service time by 90% when used with Lenze PC based programming software, making them the ideal solution for both OEM manufacturers and systems integrators."
Thanks to the memory chip, the smd drive is ready-to-run straight from the box, pre-programmed with a series of useful factory settings. Simple controls on the front of the drive are provided for speed adjustment and basic programming. The smd drive will also perform advanced functions as part of its standard operating software which include adjustable slip compensation to increase the accuracy of speed holding with changing loads, voltage boost to improve dynamic response and DC injection braking to bring the drive to a stop quickly.
The Lenze organization includes an international network of sales and service centers employing more than 2,000 people worldwide. Lenze offers a complete line of individual components for a complete drive solution from start to finish. Lenze products range from AC inverters and servos to gears and gearmotors to clutches and brakes.
A member of the Lenze Group, AC Technology is headquartered in Uxbridge, Massachusetts, USA. AC Technology develops and manufactures variable frequency AC motor drives that range from some of the world's smallest sub micro drives to a 250 HP drive. AC Technology has pioneered developments such as 575 VAC models, totally enclosed NEMA 4 drives, plain English programming, and the use of intelligent power modules (IPMs).
Lenze USA can be found online at
www.lenzeusa.com
AC Technology can be found online at
www.actechdrives.com
.