Product News: Controls & Controllers
Variable Frequency Drives work with submersible/centrifugal pumps.
Press Release Summary: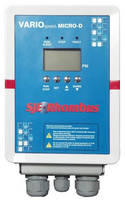 March 17, 2014 - Compatible with multiple pump brands, VARIOspeed MICRO series VFDs offer pre-engineered, variable speed options for deep well submersible pump or centrifugal pump constant pressure control applications. There are two models available, and features include single-phase 230 Vac input, selectable 230 Vac single- or 3-phase output, 0–99 psi transducer, and 4–20 mA signal. Respectively, max output for MICRO-D and MICRO-D Plus models is 11 and 14 A. Design facilitates installation and setup.
Original Press Release
VARIOspeed® Micro Series VFDs Introduced!
Press release date: March 1, 2014
Detroit Lakes, MN — SJE-Rhombus® a global provider of VFD and water control solutions is excited to introduce the new VARIOspeed MICRO series VFDs for Latin America.  These VFD's are economical, pre-engineered variable speed options for deep well Submersible pump or Centrifugal pump constant pressure control applications.
With two models available, product features include; Single Phase 230 VAC input, selectable 230 VAC single phase or three phase output, MICRO- D model = 11 amp max output, MICRO-D Plus model = 14 amp max output. The drives offer easy installation and setup, work with multiple pump brands, and include a 0-99 PSI transducer, 4-20 mA signal.
For product information, or availability please contact SJE-Rhombus at
sje@sjerhombus.com
or call 218-847-1317. To learn more about SJE-Rhombus® who does business globally thru Global Distributors, a Suzhou China location and five United States locations please visit the World Wide link at
www.sjerhombus.com
or
www.sjerhombus.cn
.
Kathy Fasteen
Administrative Services
Kathy.Fasteen@sjerhombus.com
218-847-1317  ext. 3301