Product News: Optics & Photonics
UV 1 W Q-Switched DPSS Laser suits micromachining applications.
Press Release Summary: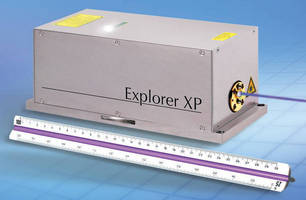 January 18, 2013 - Delivering greater than 1 W output power at 50 kHz repetition rate with 8 ns pulse width and less than 2% pulse-to-pulse stability, Explorer® XP 355-1 accommodates needs of precision UV micromachining applications. This ultraviolet (UV) Q-switched diode-pumped solid-state (DPSS) laser, which combines electronics and laser head in one package, is able to integrate into machine tools and moving gantries. Design endures bare product shock and vibration with accelerations of up to 100 g.
Original Press Release
Spectra-Physics® Introduces World's Smallest UV 1 W Q-Switched Laser
Press release date: January 16, 2013
• New compact, low cost Explorer® XP 355-1 ideal for UV micromachining applications

Santa Clara, CA – Spectra-Physics®, a Newport Corporation brand, announces Explorer® XP 355-1, the world's smallest 1 W ultraviolet (UV) Q-switched diode-pumped solid-state (DPSS) laser, at least seven times smaller than the nearest competitive laser.  With Spectra-Physics' unique "It's in the Box™" design that combines electronics and laser head into a single, compact, lightweight package, the new laser is rugged and easily integrates into machine tools and moving gantries. The Explorer XP 355-1 delivers exceptional performance with short pulse width, superior beam quality, and unparalleled pulse-to-pulse stability for high quality processing, making it ideal for additive manufacturing, medical device manufacturing, UV marking and other precision UV micromachining applications.

"We are excited about the Explorer XP 355-1, a breakthrough in UV lasers that delivers over a Watt of UV power from a single, tiny package that fits in the palm of your hand," says Wolfgang Köhler, product manager of Spectra-Physics, Stahnsdorf, Germany.  "We believe this low cost, compact laser will enable our customers to realize machine tool designs with reduced footprint, cost, and cost of operation, while delivering high quality UV micro-processing results."

The Explorer XP 355-1 delivers >1W output power at 50 kHz repetition rate with a short 8ns pulse width and <2 % pulse-to-pulse stability for highest process reproducibility and yields. Based on the field-proven Explorer platform and Spectra-Physics' patented architecture, the ruggedized laser is tested to endure bare product shock and vibration with accelerations of up to 100 g with exceptional reliability and low cost of operation.

The new Explorer XP 355-1 laser will be featured at SPIE Photonics West, The Moscone Center, San Francisco, CA, February 5-7, 2013.  Please visit Newport's booth #1301 for a demonstration.  For more information, please visit: http://www.newport.com/Explorer-XP.

About Newport Corporation

Newport Corporation is a leading global supplier of advanced-technology products and systems to customers in the scientific research, microelectronics manufacturing, aerospace and defense/security, life and health sciences and precision industrial manufacturing markets.

Newport's innovative solutions leverage its expertise in high-power semiconductor, solid-state and ultrafast lasers, photonics instrumentation, sub-micron positioning systems, vibration isolation, optical subsystems and precision automation to enhance the capabilities and productivity of its customers' manufacturing, engineering and research applications. Newport
is part of the Standard & Poor's SmallCap 600 Index and the Russell 2000 Index.

Company Contacts:

Herman Chui
Sr. Director of Product Marketing
Tel: +1 408-980-6996
Email: herman.chui@spectra-physics.com

Wolfgang Köhler
Product Manager
Tel: +49-3329-63870
Email: wolfgang.koehler@spectra-physics.com