USB Flash Drives offer 128 GB capacity.
Press Release Summary: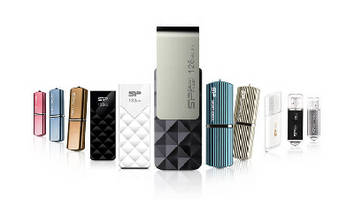 March 20, 2014 - Available in USB 2.0 and USB 3.0 models, SP 128 GB USB Flash Drives are capable of storing 20,000 high-resolution 18 MP images, over 3,000 songs, or over 20 hr of high-definition videos. Units include SP Widget application software, which provides 7 major backup and security tools. In addition, with Recuva File Recovery, users can rescue deleted files.
Silicon Power Computer and Communications, Inc. - Taipei, TWN
Original Press Release
SP/Silicon Power Launches 128GB USB Flash Drives Higher Capacity, Greater Possibility
Press release date: March 12, 2014
Taipei, Taiwan -- CSP/ Silicon Power, the world's leading provider of memory storage solutions, today announces the launch of high capacity USB 2.0 & USB 3.0 USB flash drives with 128 GB. Featuring incredibly high capacities, SP 128GB USB flash drives will rewrite your storage experiences with more convenience and higher efficiency. Instead of having numerous ordinary USB flash drives with little capacities, SP 128GB USB flash drives allow a totally worries-free mobile life that only one flash drive is needed to store all your important documents, photos and videos.
One device on hand, multiple needs attained
Do you still get annoyed when you intend to save some important document but find out there's no more space for it? Do you always feel confused when you try to find a file out of many USB flash drives? Silicon Power realizes the increasing demand for high-capacity storage devices and has now upgraded numerous hot-sale USB flash drives to 128GB to further provide users with a more effective and efficient way of data storage. With impressively high capacities, SP 128GB flash drives promise amazing storage abilities which could store 20,000 high-resolution 18 megapixels images, over 3,000 songs or over 20 hours High-Definition videos. SP 128GB flash drives can fully satisfy your needs at work and leisure for more data preservation and better data management.
Super hot-sales with super-high capacity upgrades
In order to improve users' storage experiences, SP upgrades various popular USB flash drives to 128GB, including Blaze B10, Blaze B20, Blaze B30, Blaze B05, Blaze B06, Marvel M01, Marvel M50, Ultima U03, Helios 101, I-Series and LuxMini 720. In addition, to better satisfy users' different mobile needs for capacities, SP also enhances following USB flash drives' capacities to 64GB: Touch T01, Touch T02, Touch T01 Mobile, LuxMini 710 and Unique 510. All Silicon Power USB flash drive products come with a lifetime warranty, SP Widget application software which provides seven major back up and security tools and a 60-day trial version of NIS (Norton Internet Security). Furthermore, SP also provides users with the Recuva File Recovery which allows users to easily rescue the deleted files including digital photos, documents, music and videos. For more information, please visit the Silicon Power website:
www.silicon-power.com
About SP / Silicon Power
Silicon Power Computer & Communications Inc., founded in 2003 by a group of enthusiastic specialists of flash data storage industry. Well dedicated in brand image and product quality, SP has been recognized and well accepted by millions of end-users in more than 100 countries, becomes the world's leading manufacturer of flash memory cards, USB flash drives, card readers, DRAM modules, solid state disks, and portable hard drives in less than a decade. Headquartered in Taipei, we continuously established various branches throughout the world including Netherlands, Japan, Russia, Mainland China and other emerging market. With superior quality and innovative design, our products stood out in several competitions and awarded Taiwan Excellence and COMPUTEX Design & Innovation Award in 2009 and 2010. Winning trust of global consumers SP holds a record of successive double-digit revenue growth for last seven years. For SP, the product we introduced is not only a digital storage device but also a real promise to create and preserve your most valuable memory in every moment