USB 3.0 Portable Hard Drives offer 2 TB capacity.
Press Release Summary: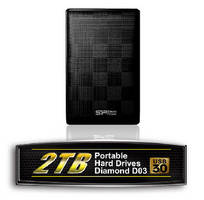 May 27, 2014 - Featuring SuperSpeed USB 3.0 transfer interface and military-grade protection, SP 2TB Portable Hard Drives are capable of storing nearly 1 million high-resolution digital photos, 500,000 songs, or 880 hours of full-HD videos. Units feature rugged casing design which assures protection against data loss and damage caused by daily use. Also included, SP Widget provides 7 backup and security tools. Models with 2 TB capacity include Armor A30, Armor A80, Stream S03, Diamond D03, and Diamond D05.
Silicon Power Computer and Communications, Inc. - Taipei, TWN
Original Press Release
SP/ Silicon Power Releases the Latest 2TB Upgrade on Its Numerous USB 3.0 Portable Hard Drives
Press release date: May 15, 2014
Taipei, Taiwan – CSP/ Silicon Power, the world's leading provider of memory storage solutions, today proudly announces the launch of a great capacity upgrade on its five hot-sale USB 3.0 portable hard drives to 2TB. Featuring great capacity, SuperSpeed USB 3.0 transfer interface, rugged military-grade protection and various trendy designs, SP 2TB portable hard drives are designed to be the whole package that satisfies all the needs for function, action and fashion. No more worries about little capacity, SP 2TB portable hard drives realize the real all-inclusive storage solution that users can easily backup and store great numbers of documents, photos, music and videos in one device only.
2TB Upgrade Portable HDDs—The All-in-one Storage Device
Under such a stressful and fast-paced mobile life, how to efficiently store and organize all the important files for better data management is already one of the biggest issues. Do you want to have all your documents in one drive instead of bringing numbers of storage devices? Are you tired of wasting your time and energy on looking for certain file out of numerous devices? SP takes all your needs into consideration and now offers you the perfect all-in-one upgrade storage solution—the 2TB portable hard drives, which enables incredibly high data storage capability for nearly one million high-resolution digital photos, around 500,000 songs or over 880 hours Full-HD videos. SP 2TB portable hard drives all introduce the SuperSpeed USB 3.0 interface, which can provide users with superior data transfer speed that is ten times faster than USB 2.0 interface. Furthermore, SP 2TB portable hard drives feature the rugged casing designs which assure the sturdy protections against data loss and damages caused by daily using and carrying. Incorporating multi-functions of great capacity, SuperSpeed USB 3.0 interface and complete data protection, SP 2TB portable hard drives allow users to save all the documents and favorite entertainment collections together and therefore promise a smarter way of centralized data management.
Fabulous performances with fascinating styles
To fully satisfy users' desire for large capacity, Silicon Power upgrades its five best-selling portable hard drives to a generous 2TB of storage, including Armor A30, Armor A80, Stream S03, Diamond D03 and Diamond D05. Characterized by the vivid and distinctive designs, SP 2TB portable hard drives deliver different chic styles for users to choose from. No matter you are a metrosexual or a sports enthusiast, you can find the perfect style for you. All Silicon Power portable hard drive products are backed by a 3-year warranty and come with the exclusive free download software—SP Widget, which provides seven major backup and security tools, and a 60-day trial version of NIS (Norton Internet Security). Furthermore, SP also provides users with the Recuva File Recovery which allows users to easily rescue the deleted files including digital photos, documents, music and videos. For more information, please visit the Silicon Power website:
www.silicon-power.com
About SP / Silicon Power
Silicon Power Computer & Communications Inc., founded in 2003 by a group of enthusiastic specialists of flash data storage industry. Well dedicated in brand image and product quality, SP has been recognized and well accepted by millions of end-users in more than 100 countries, becomes the world's leading manufacturer of flash memory cards, USB flash drives, card readers, DRAM modules, solid state disks, and portable hard drives in less than a decade. Headquartered in Taipei, we continuously established various branches throughout the world including Netherlands, Japan, Russia, Mainland China and other emerging market. With superior quality and innovative design, our products stood out in many competitions and awarded with numerous well-known design awards, such as Taiwan Excellence, COMPUTEX Design & Innovation Award, red dot design award, iF Design Award and IDEA . Winning trust of global consumers SP holds a record of successive double-digit revenue growth for last ten years. For SP, the product we introduced is not only a digital storage device but also a real promise to create and preserve your most valuable memory in every moment.
Media Contact:
Annie Tsao                     
Tel.: +886-2-8797-8833 EXT. 609
E-mail:
annie_tsao@silicon-power.com