Product News: Optics & Photonics
USB 3.0 Camera upgrades microscope imaging and video recording.
Press Release Summary: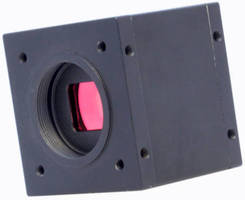 August 11, 2015 - Supporting file transfer rates up to 5 GBps, Mighty Cam 3.0 attaches to scope with C/CS adapter ring and plugs into computer or monitor via USB 3.0 cable. This 5 MP CMOS camera employs 1/2.5 in. CMOS sensor and supporting TWAIN and DirectShow multimedia interfaces. Frame rate is 14 fps at full resolution (2,592 x 1,944) and increases to 30, 36, or 45 fps at 3 lower-resolution settings. Also included, ezMeasure software lets Windows 7/8 users measure, annotate, record, and interpret data.
Original Press Release
Mighty Cam 3.0 from Aven Lifts Microscopy into New Era
Press release date: August 7, 2015
ANN ARBOR, MI – A new USB 3.0 camera from Aven, Inc. lets any microscope be upgraded for dramatically faster imaging and video recording.
Mighty Cam 3.0 captures up to 45 frames per second, more than twice the rate of earlier-generation USB devices. Advanced speed makes it ideal for applications that benefit from reduced image lag times, such as industrial testing, biomedical research, scientific documentation and analysis, health care and technical education or photography.
The five-megapixel CMOS camera attaches easily to any scope with a C/CS adapter ring and plugs into a computer or monitor with the USB 3.0 cable.
High-speed imaging is just one Mighty Cam 3.0 advantage. It also displays images more rapidly, with a file transfer rate of up to 5 gigabytes per second – ten times faster than USB 2.0.
"These improvements from our Mighty Cam USB 2.0 bring meaningful workflow efficiencies," says Michael Shahpurwala, president of Aven, a global optical equipment supplier. "USB 3.0 technology opens a new era, and cameras are among the peripherals that have improved significantly."
As an added benefit, Aven's new model includes ezMeasure software that lets Windows 7 or 8 users measure, annotate, record and interpret data. The program helps create reports with images, analysis and raw data. Operators can measure distances in millimeters or inches, save multiple settings and connect two cameras at a work station for live, side-by-side comparisons.
The 1/2.5" CMOS sensor delivers true color fidelity in varied lighting. "Its low noise and high sensitivity are well-suited for professionals in scientific and technical settings," says Shahpurwala.
Aven's Mighty Cam 3.0 supports TWAIN and DirectShow multimedia interfaces. The frame rate is 14 FPS at full resolution (2592 x 1944), increasing to 30, 36 or 45 at three lower-resolution settings.
The company's extensive line of optical accessories for microscopy also include a Mighty Cam CCD model for demanding light and color challenges (also with ezMeasure), two VGA color cameras and two HDMI color cameras.
For more information, contact Aven at
(734) 973-0099
or 
sales@aveninc.com
. A digital catalog is here.
Visit Aven at Booth 10 during the SMTA International exhibition Sept. 29-30 at the Donald Stephens Convention Center in Rosemont, IL.
Aven, Inc. manufactures and distributes high-performance precision tools and optical systems for industrial, scientific, medical and education applications. More than 800 products include stereo zoom microscopes, video inspection systems, digital portable scopes, illuminated pocket scopes, magnifying lamps, LED task lights, test and measurement instruments, CMOS and CCD cameras, other microscope accessories and premium hand tools, including stainless steel models.
An electronics innovator since 1983, Aven is located in a high-tech corridor of Southeast Michigan.