Product News: Electronic Components & Devices
Ultrasonic Generator features integrated intelligence.
Press Release Summary: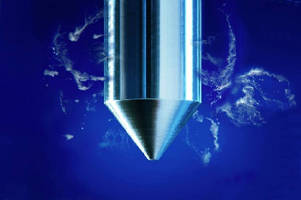 May 29, 2014 - Available with 25–40 kHz frequencies, 3 kW SONOPOWER DIGITAL 3S is controlled by 32-bit processor, which lends it intelligence for industrial component cleaning and electroplating applications. Generator continuously monitors and automatically adjusts frequency; independently adapts fan speed to situation; and continuously measures mains voltage and reacts to overvoltage/undervoltage. Sweep function and power output can be adjusted in 1% steps, allowing user to set up various modes as they wish.
Weber Ultrasonics USA - Clarkston, MI
Original Press Release
Greater Efficiency and Process Stability Thanks to Intelligence for Surface Technology as a Standard Feature
Press release date: May 19, 2014
The new SONOPOWER DIGITAL 3S is Weber Ultrasonics' response to stricter requirements in the field of surface technology in terms of both process stability and profitability. The 3 kW ultrasonic generator has a whole host of innovative features and a control system based on a 32-bit processor architecture that lends it intelligence. This intelligence enables it to automatically make numerous settings, which in turn provides greater stability and reliability, while maintaining maximum performance and efficiency. The device is supplied ready-to-connect and is available with the frequencies 25 kHz and 40 kHz.
Efficient and stable processes that guarantee consistent results are a key prerequisite for profitability and competitiveness in the fields of industrial component cleaning and electroplating. Weber Ultrasonics, one of the world's leading manufacturers of ultrasonic components, has reacted to these requirements and designed the all-new SONOPOWER DIGITAL 3S. The 3 kW ultrasonic generator is equipped with various innovative features. It is controlled via a modern 32-bit processor architecture, similar to the kind used in smartphones. The SONOPOWER DIGITAL 3S is fully digital and excels through its exemplary ease-of-use. Even under difficult operating conditions, it secures maximum process stability and performance. Employing the frequencies of 25 kHz and 40 kHz, which are frequently used in the fields of component cleaning and electroplating, it is suitable for a broad range of applications.
Automatic settings and adjustments
Thanks to the new Weber SONOSCAN, the generator automatically determines and sets its operating frequency. This is already performed before any ultrasonic output and thus increases the process reliability for cleaning and electroplating applications. The continuous monitoring and automatic adjustment of the frequency also ensures that the system always uses the optimum output, even when operating conditions change - for example in the case of temperature fluctuations, when switching over from cleaning to rinsing medium, or when replacing a transducer. Thanks to this new technology, the generator also detects whether a transducer system is connected at all. This prevents damage to the generator due to "dry running".
Of course, conventional generators are also capable of detecting when they get too hot. However, they then simply switch off, which leads to an interruption in the process and requires manual intervention. The new SONOPOWER DIGITAL 3S is quite different in this regard, as it independently adapts its fan speed in accordance with the prevailing situation. The parts can then continue to be treated with no loss of performance/quality and without the generator overheating.
In addition to this, the SONOPOWER DIGITAL 3S is capable of independently detecting the mains voltage and then adapting to this – and not only during installation. It continuously measures the mains voltage and reacts promptly to any overvoltage or undervoltage, as well as to voltage fluctuations. This also contributes to consistent quality of the cleaning or electroplating process.
Programmed for the future
On the SONOPOWER DIGITAL 3S, the sweep function and the power output can each be individually adjusted in 1% steps, allowing users to set up various modes exactly as they wish and integrate these into parts-specific treatment programmes. This in turn allows easy adjustment of the ultrasonic treatment to various or varying ranges of parts. At the same time, the new 32-bit processor architecture makes it possible to further extend the intelligence of the generator, thereby offering flexibility for resolving future tasks.
The new power section of the SONOPOWER DIGITAL 3S also makes a valuable contribution in this regard, as its output stage is twice as powerful as those used in previous generators. This offers high power reserves for greater safety and reliability, in particular when handling tasks for which previous generators were forced to operate at their limits. Not least thanks to Weber SONOSCAN, it is also more tolerant with regard to transducer systems and supply lines. As such, the generator reacts less critically to differences in transducer systems caused by material tolerances, ageing or wear.
Another plus point of the new 3 kW generator is its IEC-compliant PLC interface. This makes it fully compatible with the programmable logic controllers (PLCs) typically used in the field of automation. The optimum communication between the generator and the PLC that results from this not only simplifies commissioning, but also any potential troubleshooting.
Attractive price-performance
Using the latest technology and innovative modules not only lends the new SONOPOWER DIGITAL 3S exemplary intelligence, it also renders many components that were previously required to operate ultrasonic generators superfluous. This ensures the same, unparalleled price-performance that the generator itself offers.
Weber Ultrasonics will be presenting the innovative SONOPOWER DIGITAL 3S at Stand C14 / D13 in Hall 5 at the parts2clean fair in Stuttgart which takes place from 24 - 26 June 2014.
About Weber Ultrasonics
Weber Ultrasonics GmbH is based in the town of Karlsbad-Ittersbach in the south-west of Germany and was founded in 1998 by Dieter Weber, co-inventor of the "push-pull" principle. The company represents the Surface Technology business segment within the Weber Ultrasonics Group. Thanks to its innovative components for ultrasonic cleaning and excellent service, the company has developed into one of the global technology leaders in the space of just a few years.
The ultrasonic cleaning solutions offered by Weber Ultrasonics are used in numerous sectors, such as the automotive, sanitary, watch & clock-making industries, the fields of electrical engineering, electronics, precision mechanics, optics, surface and cleaning technology, metal working, PCB manufacture and many more.
Other business segments of the Weber Ultrasonics Group include the development and manufacture of high-grade components and systems for ultrasonic welding and cutting, as well as environmental technology. The latter also comprises the company's own technology centre for performing sewage analyses using ultrasound. The Group is represented in over 50 countries worldwide. The subsidiary Weber Ultrasonics America produces and markets the Group's ultrasonic solutions throughout the entire American continent. Weber Ultrasonics Asia was founded in 2013 and is responsible for sales and distribution of ultrasonic cleaning products in the entire Asian market.
Weber Ultrasonics GmbH, Sabine Fragosa, Im Hinteracker 7,
76307 Karlsbad-Ittersbach, Germany, phone +49 (0)7248 9207-0
s.fragosa@weber-ultrasonics.de
,  
www.weber-ultrasonics.de