Product News: Cleaning Products & Equipment
Ultrasonic Cleaners are available in volumes up to 47.6 gal.
Press Release Summary: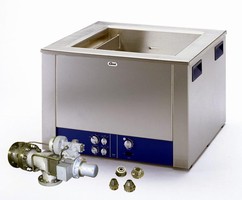 February 15, 2008 - Designed for heavy-duty manufacturing applications, Transsonic TI-H and Elmasonic S Ultrasonic cleaners are available with adjustable power and variable frequency. TI-H ultrasonic baths are used to clean stainless steel, Delrin®, and Teflon® plastic parts from tablet and capsule manufacturing equipment between batches. Elmasonic S cleaners are available in 11.9 and 23.8 gal tanks. Units offer 3 different ultrasonic modes; sweep for common cleaning tasks, degas, and normal.
Original Press Release
Elma High Capacity Ultrasonic Cleaners for Industrial Cleaning
Press release date: February 4, 2008
Elma Ultrasonic Cleaners handle the widest range of cleaning tasks across manufacturing, maintenance, and research.

High capacity models are available with adjustable power and variable frequency.

SOUTH ORANGE, NJ - February 4, 2008 - Tovatech LLC announces the high-capacity Elma Ultrasonic Cleaning Equipment for heavy-duty manufacturing and industrial applications. The Transsonic TI-H and new Elmasonic S Ultrasonic Cleaners are available in volumes up to 180 liters (47.6 gal) to handle scientific and pharmaceutical production equipment, aerospace and automotive parts, and medical and dental devices among other manufacturing and laboratory cleaning chores.

Major pharmaceutical companies employ large TI-H ultrasonic baths to clean stainless steel, Delrin®, and Teflon® plastic parts from tablet and capsule manufacturing equipment between batches. In addition to cleaning validation, Elma ultrasonic units are used by drug companies for solvent degassing and sample preparation. Typical automotive uses include labor-free cleaning of carburetors, fuel injectors, and pistons.

The new Elmasonic S Ultrasonic Cleaning line offers industrial sizes with 45-liter (11.9 gal) and 90-liter (23.8 gal) tanks, which include the same features that make them indispensable bench top units for laboratory applications. These units offer unsurpassed versatility with three different ultrasonic modes: Sweep for common cleaning tasks, Degas, and Normal.

In Normal mode, the Elmasonic ultrasonic cleaners produce a stabilized frequency field, forcing the liquid to circulate and mix. Mixing, dispersing, emulsifying, and dissolving samples is most efficiently accomplished in this mode. In Sweep mode, frequencies are shifted continuously to ensure that cavitation occurs uniformly throughout the tank. Glass, metal, gem, jewelry and plastic surfaces are most thoroughly cleaned in Sweep mode. Dissolved gas in the cleaning liquid can suppress cavitation; Degas is used to remove entrained air thereby assuring the most efficient cleaning.

The Elma Transsonic TI-H cleaners are heavy-duty multi-frequency units in several capacities up to 180 liters (47.6 gal). Expanded utility is obtained with dual frequencies (25/45 kHz or 35/130 kHz) in a single unit. The lowest frequency is used for coarse particle removal; 35 and 45 kHz are used to clean grease and oils from hard surfaces. The 130 kHz is used for gentle cleaning of sensitive surfaces such as jewelry and electronic parts. All TI-H units are fully power adjustable.

With high capacity cleaning tanks, selectable modes, and multiple frequencies, these ultrasonic units provide solutions for diverse cleaning needs from pharmaceutical equipment to printed circuit boards to automotive equipment and aerospace parts.

For more information about the Elmasonic Ultrasonic Cleaner line click here.

About Tovatech LLC

Information about Tovatech's laboratory equipment is available here. Click on the following links for information about our analytical balance and digital scales offering. Tovatech LLC is a distributor of laboratory equipment to the US, Canada, and Mexico. Tovatech is staffed entirely by scientists who seek to aid other scientists in selecting the right laboratory instruments for their work.

Contact: Rachel Kohn, Director Tovatech LLC Telephone: 973-913-9735 E-mail: rskohn@tovatech.com