UGV/Robotics Suite reduces in-field personnel requirements.
Press Release Summary: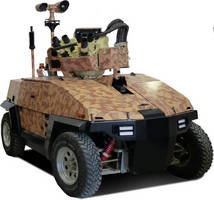 June 23, 2014 - Suited for surveillance, intelligence, defense, and HLS missions, Hybrid Multipurpose Vehicle (HMV) can carry loads of up to 1.2 tons, includes ELBIT stabilized weapon station, and is available with two electric motors for optimal maneuverability and noiseless ride, or electronic and diesel motors for extended distance travelling. Core Unit robotic suite, also available, offers everything necessary to turn any ground transportation platform into unmanned vehicle.
G-NIUS Unmanned Ground Systems (UGS) Ltd - Yokneam, ISR
Original Press Release
G-NIUS Unveils New and Advanced Technologies in the UGV Field: a Multi-Purpose Hybrid UGV & a Unique Robotic Suite that Transforms any Vehicle to Unmanned
Press release date: June 12, 2014
Eurosatory 2014, June 16-20, Israel National Pavilion, Hall 6, Stand 621.
G-NIUS - a leader in the development and manufacturing of unmanned ground systems - unveils its Hybrid Unmanned Ground Vehicle with a high level of maneuverability, and its unique robotic suite that enables any vehicle to perform as Unmanned.
HMV- Hybrid Unmanned Ground Vehicle
The Hybrid Multipurpose Vehicle (HMV) is designed for any surveillance, intelligence, defense and HLS missions, saving lives and reducing personnel requirements in the field.  It includes two motor options: two electric motors enabling a high level of maneuverability while remaining undetected due to a noiseless ride or an electronic and diesel motors, allowing the vehicle to travel for long distances, while filling the electric motor's battery.
Both motor options enable the vehicle to carry heavy loads of up to 1.2 tons. The system has a low thermal signature and an advanced low-level control system, as well as a low profile. The system includes an ELBIT stabilized weapon station.
Core Unit - Robotic Suite
The unique Core Unit is a small footprint robotic suit, enabling any ground transportation platform to become an unmanned vehicle - protecting forces while allowing savings on manpower. The suite includes all the systems necessary for defense, intelligence, and surveillance missions - a mission computer, navigation unit, video audio system, and power distribution unit.  It has a day-and-night thermal uncooled camera, rear and side cameras, and a communication system. It can optionally include an obstacle avoidance system and optical surveillance sensor, as well as any other sensors, according to the user's choice. Easy to install and cost-effective, the system is immune to extreme temperatures.
According to Mr. Yoav Hirsh, CEO, "We are pleased to launch two new solutions at Eurosatory 2014 - in the area of unmanned vehicles that help protect armed forces. The solutions are suitable for any mission and include the capabilities that we have amassed over more than seven years of operational activities, which is the equivalent of 60,000 man-hours. Significant interest in these solutions is already being expressed by various organizations around the world, and everyone is welcome to visit our stand and learn more about them."
About G-NIUS Unmanned Ground Systems (UGS) Ltd.
G-NIUS, a leading provider of unmanned ground systems, develops and manufactures a variety of 24/7, all-weather, all-terrain field-proven autonomous unmanned ground systems - which are based on a common, versatile and layered avionics suit. Employing highly-skilled personnel, the Company has accumulated extensive capabilities, know-how, and expertise in a wide range of technologies - and is a pioneer and innovator in the utilization of emerging technologies in navigation, control, AI, and 3D imaging.
One of its goals is to equip military and law enforcement personnel with systems that balance the asymmetries in today's armed conflicts.
For further information please contact:
Danny Gur - Business Development &  Program Manager
Tel: +972.77.3184.447 
Mobile: +972.52.2786818 
Email:
dannyg@g-nius.co.il
www.g-nius.co.il