Product News: Mechanical Power Transmission
Turbocharged Engine suits small construction equipment.
Press Release Summary: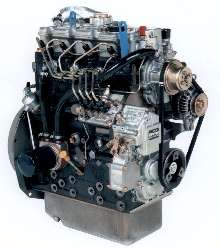 November 14, 2002 - Four cylinder Model 404C-22T offers 44.7 kW at 2,800 rev/min. Torque rise of 21% ensures machine responsiveness, while torque backup capability enables engine to respond to sudden increases in demand without stalling. Engine can be used for small agricultural machinery.
Original Press Release
Perkins Unveils First Turbocharged Compact Engine
Press release date: October 25, 2002
MOSSVILLE, IL, October 25 -- Perkins Engines has unveiled a turbocharged addition to its compact 400 Series range - the 404C-22T.
The introduction of a turbocharged engine not only extends the power range but also delivers what customers have been asking for in terms of compact power. This new engine confirms Perkins' commitment to becoming the number one engine manufacturer in the small engine sector.
The four cylinder 404C-22T offers 44.7 kW (60 hp) @ 2800 rev/min and has been developed primarily to suit the needs of small construction equipment and light duty tractor manufacturers. For agricultural machinery customers, the addition of a turbocharger means even better peak torque and superior machine performance. A torque rise of 21 percent ensures maximum machine responsiveness, making this engine an ideal choice for small agricultural applications. The 404C-22T's torque back-up capability (which can be thought of as the reserve of engine turning force) enables the engine to respond to sudden increases in demand without stalling. In addition, this engine maintains the other key benefits of the 400 Series: low noise, small package size, light weight, superior power density and low cost of ownership.
The 404C-22T boosts the 400 Series range to an offering of 8 engines ranging from 7 to 45 kW (9.5 to 60 hp).
The 400 Series has evolved as a result of Perkins' listening to the requirements of customers in the compact power sector and has become the engine range to meet the current and future needs of customers in the construction, industrial, agricultural, turf, materials handling and power generation market sectors.
Perkins Engines is the world's leading supplier of off-highway diesel and gas engines in the 4 - 2000 kW (5 - 2600 hp) market. Perkins' key strength is its ability to tailor engines precisely to meet customers' requirements. More than 300,000 engines are manufactured every year -- that's one every minute -- to 21,000 different specifications.
That is why over 1,000 major international OEMs in the construction, agricultural, power generation, materials handling, and defense markets choose Perkins to provide their power.
Whatever the requirement Perkins has the solution, backed by support from one of the world's largest and most sophisticated networks of 4,000 dealers and distributors in 160 countries.
Information: Mike Reinhart (reinhart_mike_e@cat.com) Mossville, IL 309.578.6006