Product News: Electrical Equipment & Systems
Transportation Connectors are offered in 6 configurations.
Press Release Summary: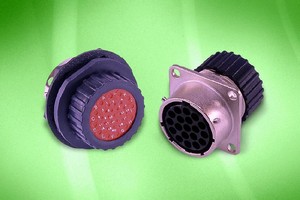 September 26, 2008 - Trident Series Connectors are available in Snap Together (rectangular and slimline), Multiway (rack and panel), Ringlock (circular), Neptune (circular) and TNM (circular) configurations. With IP67 sealing to withstand harsh environments, they come in circular and rectangular designs, multi-pin configurations, plastic and metal housings, and wide range of contact layouts and accessories. Units are suited for applications such as junction boxes and power train in on- and off-road vehicles.
Original Press Release
ITT's Trident Connectors Ideally Suited for Transportation Applications in On- and Off-Road Vehicles
Press release date: September 18, 2008
Versatile connectors offered in six configurations, variety of contact layouts... SANTA ANA, Calif. - September 18, 2008 - ITT Interconnect Solutions, a leading global manufacturer and supplier of connectors, interconnects, and cable assemblies, offers a series of connectors specified for use in transportation applications. Designated the Trident Series, the connectors are offered in six configurations including Snap Together (rectangular and slimline), Multiway (rack & panel), Ringlock (circular), Neptune (circular) and TNM (circular) devices. "Offered in circular and rectangular designs, multi-pin configurations, plastic and metal housings, and with a wide range of contact layouts and accessories, the versatile Trident connectors suit a myriad of needs in the transportation market," said Keith Teichmann, director of marketing for ITT Interconnect Solutions. "The connectors also feature IP67 sealing to withstand harsh environments, allowing them to be specified for applications ranging from dashboard signal and power, to air conditioning, to junction boxes and power train in on- and off-road vehicles." Additional applications for the Trident connectors include rail, test, communications and manufacturing equipment, and robotic systems. The Snap Together (rectangular and slimline) connectors feature an operating voltage of 250VAC rms. Contact current rating is to 13A for the rectangular connector and 10A for the slimline version. Insulation resistance is 5000Mohms at 500V dc. Multiway (rack & panel) connectors are fully tested to MIL-STD-202 and feature a test voltage of 200VAC rms for 60 seconds and an insulation resistance of 5000Mohms at 500VDC. Operating temperature ranges from -55°C to +125°C. The Ringlock (circular) connectors feature an operating voltage of 250VAC rms and a contact current rating up to 13A. Insulation resistance is 5000Mohms at 500VDC. The Neptune and TNM circular connectors mix signal and power contacts in one housing and feature IP67 sealing. Test voltage is 2000VAC rms, with an insulation resistance of 5000Mohms at 500VDC. Working voltage for the Neptune connector is 25V. The TNM connector features an operating voltage of 250VAC and a single contact current rating of 6A or 13A (crimp), with 40A power contacts. Typical pricing for the Trident connectors ranges from $1.00 to $7.00 in quantities of 1000 pieces. Lead time is from 6 to 10 weeks. About ITT Interconnect Solutions ITT Interconnect Solutions is an international manufacturer and supplier of connectors including circular, rectangular, fiber optic, RF, power and high voltage, audio, PCMCIA, Compact Flash Card, enclosures, cable assemblies, and application specific custom solutions. The Interconnect Solutions portfolio includes the brands Cannon, VEAM, and BIW. For more information on ITT Interconnect Solutions and an archive of its press releases, please visit
www.ittcannon.com
. About ITT ITT Corporation (itt.com) is a diversified high-technology engineering and manufacturing company dedicated to creating more livable environments, enabling communications and providing protection and safety. The company plays an important role in vital markets including water and fluids management, global defense and security, and motion and flow control. Headquartered in White Plains, N.Y., the company ITT employs approximately 40,000 people and generated $9 billion in 2007 sales. For more information, call 919-872-8172, or e-mail bgaddy@btbmarketing.com Web:
www.ittcannon.com