Product News: Sensors, Monitors & Transducers
TPMS Sensors expand vehicle coverage with 315 MHz version.
Press Release Summary: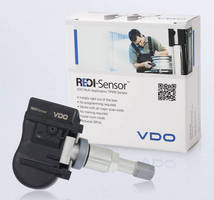 June 3, 2014 - As part of 4 available VDO REDI-Sensor™ Multi-Application TPMS (Tire Pressure Monitoring System) Sensor models, Part No. SE10003 is 315 MHz sensor that extends applicable coverage for Audi, Mercedes, Volkswagen, Volvo, GM truck (PWM), Subaru, and other Asian models. Range of sensors enables replacement of 200+ OE sensors on range of domestic, Asian, and European vehicles. No sensor programming/cloning steps are required, and product follows existing OE vehicle relearn procedures.
Original Press Release
Continental Expands TPMS Coverage with New VDO REDI-Sensor(TM) Multi-Application Sensor
Press release date: May 1, 2014
• Features Audi, Mercedes, Volkswagen, Volvo, GM truck ("PWM"), Subaru and other Asian model applications

Allentown, PA – Continental Commercial Vehicles & Aftermarket, one of the industry's leading manufacturers of complete OE Tire Pressure Monitoring Systems (TPMS), OE-engineered TPMS replacement parts and the maker of the VDO REDI-Sensor™ Multi-Application TPMS Sensor, has just released a new variant for its innovative multi-application TPMS sensor program.

The new 315 MHz sensor, Part # SE10003, adds greater coverage for Audi, Mercedes, Volkswagen, Volvo, GM truck ("PWM"), Subaru and other Asian models, totaling over 15 million additional vehicles in North America.

According to Steve Landis, Continental Product Manager, with four VDO REDI-Sensor SKUs in our program, we can now replace over 200 OE sensors on a wide range of domestic, Asian and European vehicles. Landis also noted that REDI-Sensor is created specifically to simplify TPMS service needs. It is ready to use, right out of the box. There are no required sensor programming or cloning steps, and it is designed to follow the existing OE vehicle relearn procedures. VDO REDI-Sensor is the TPMS sensor service solution you've been looking for!

Continental is one of the industry's leading manufacturers of Tire Pressure Monitoring Systems, replacement parts and passenger and commercial vehicle tires worldwide. All VDO TPMS replacement parts are made in ISO-certified facilities to the same quality standards as the OE parts supplied to automakers.

For more information, visit: www.redi-sensor.com, or contact: salessupport-us@vdo.com.

With provisional sales of around Euros33.3 billion in 2013, Continental is one of the world's leading automotive suppliers. As a provider of brake systems, systems and components for powertrains and chassis, instrumentation, infotainment solutions, vehicle electronics, tires, and technical elastomers, Continental contributes to enhanced driving safety and global climate protection. Continental is also an expert partner in networked automobile communication. Continental currently employs around 182,000 people in 49 countries.

The Automotive Group with its three divisions Chassis & Safety (sales of approx. Euros7.3 billion in 2013, roughly 36,500 employees), Powertrain (sales of approx. Euros6.3 billion in 2013, roughly 32,400 employees) and Interior (sales of approx. Euros6.6 billion in 2013, roughly 34,400 employees) achieved sales of approximately Euros20 billion in 2013. The Automotive Group is present in more than 170 locations worldwide. As a partner to the automotive and commercial vehicle industry, it develops and produces innovative products and systems for a modern automotive future in which cars provide individual mobility and driving pleasure consistent with driving safety, environmental responsibility, and cost-efficiency.

Within the Continental Interior Division the Commercial Vehicles & Aftermarket Business Unit accommodates the specific requirements of the commercial vehicle, special vehicle and aftermarket sector. A global network of sales and service companies ensures proximity to local customers. Covering the product brands Continental, VDO, ATE and Barum the Business Unit offers electronic products, systems and services for commercial and special vehicles, a broad selection of products for specialized workshops and spare parts for the Independent Aftermarket and the Original Equipment Services after end of series production of the vehicle manufacturer.

Contact for journalists:
AnnaMaria Blose
Director, Marketing Communications
Continental
Interior / Commercial Vehicles & Aftermarket
6755 Snowdrift Road, Allentown, PA 18106
Tel: (610) 289-0488 ext. 4002, Fax: (610) 289-1766
Email: annamaria.blose@continental-corporation.com