Product News: Electrical Equipment & Systems
Three-Phase PFC and DC/DC Converter enhances data center efficacy.
Press Release Summary: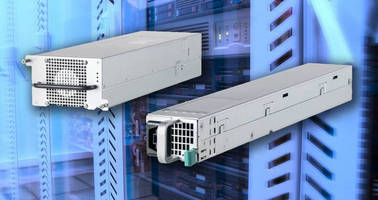 June 4, 2014 - Operating from 3-phase, 480 Vac input, 5 kW PFC converter (MPA9535) provides 380 Vdc output and ensures PFC is as close as possible to unity. Power conversion efficiency is up to 96% typ. Fed directly from MPA9535, matching high input voltage 1,200 Watt DC-DC converter (MPA9512) has 2 DC outputs: 12.12 Vdc (main) and +5 Vdc (standby). This stage of power conversion achieves efficiency of 95.2% typ. Occupying combined 4U footprint, 2 units are designed for use in 19-inch server racks.
Murata Electronics North America, Inc. - Smyrna, GA
Original Press Release
Murata Announces Highly Efficient Combined 3-phase PFC and DC-DC Converter for Data Centre Applications
Press release date: May 1, 2014
Hoofddorp, Netherlands: Murata today announced two products that are designed to improve power conversion efficiency in large data centre environments. These complementary products are a 5 kW PFC converter with 3-phase AC input and a matching high input voltage 1,200 Watt DC-DC converter. High voltage direct current (HVDC) power supply solutions are increasingly becoming popular as a way to power large server racks and datastorage equipment in the most energy efficient means possible. These two new products achieve this while meeting the restrictions placed on reducing higher harmonics to a minimum.
The PFC converter, model number MPA9535, operates from a high-line 3-phase 480 VAC input and provides a 380 VDC output. The converter ensures that the power factor correction is a close as possible to unity thus ensuring that efficiency is as high as possible. Typical power conversion efficiency of the MPA9535 is up to 96%. The matching MPA9512 DC-DC converter is fed directly from the MPA9535 and has two DC outputs. The main output is 12.12 VDC and a standby +5 VDC output is also provided. This stage of power conversion achieves a typical efficiency of 95.2%.
Designed for use in standard 19-inch server racks, the two units combined occupy a 4U footprint.
Mass production will commence during 2015.
For further information and reader enquiries:
Aya Tonooka, Murata Europe Limited. Oak House, Ancells Road, Ancells Business Park, Fleet, Hampshire  GU51 2QW , United Kingdom
Tel: +44 (0) 1252 811666  E-mail:
atonooka@murata.co.uk
Fax:  +44 (0) 1252 811777  Web:
www.murata.eu
Agency contact:
Robert Huntley, Publitek Limited, 18 Brock Street, Bath, BA1 2LW, United Kingdom
Tel: +44 (0) 1225 470000  E-mail:
robert.huntley@publitek.com
Fax:  +44 (0) 1225 470047  Web:
www.publitek.com
About Murata
Murata is a leading manufacturer of electronic components, modules, and devices. The complete range of this Technology house includes ceramic capacitors, resistors/thermistors, inductors/chokes, ceramic resonators, buzzers, sensors and EMI suppression filters. Whilst the company gets the majority of its revenue from its ceramic capacitor products, it is also the world leader in Bluetooth® & WiFi™ Modules, the world's no.1 manufacturer of board-mount DC-DC converters and is a key manufacturer of standard and custom AC-DC power supplies. Murata also designs and manufactures mobile handset antenna families, piezoelectric actuators for fuel injection systems and short focal length ceramic lenses.
Established in 1944, Murata is headquartered in Japan and has European offices in Germany, the Netherlands, the UK, Switzerland, Italy, France, Spain, Finland and Hungary.
For more information on Murata, please visit:
www.murata.eu
. You can also follow us on Twitter
@MurataEurope
or LinkedIn 
http://www.linkedin.com/company/murata-electronics
, or join us on Facebook at
http://www.facebook.com/MurataElectronics
.