Product News: Test & Measuring Instruments
Tester troubleshoots analog and digital components.
Press Release Summary: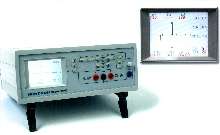 February 4, 2003 - Dual channel, bench-top Tracker 2700 has 21 selectable voltage/resistance ranges available at 5 frequencies for total of 105 combinations of voltage, source resistance, and test frequency. With SigAssist(TM), users can select optimal ranges for testing and analyze dynamic changes in signatures. Variable 5 Vdc generator lets users test SCRs, optical couplers, and other gate-fired devices in both on and off states.
Original Press Release
Breakthrough in Bench-Top, In-Circuit Non-Destructive Troubleshooting
Press release date: January 13, 2003
Mill Creek, WA, January 13, 2003 - Huntron, the world's premier supplier of bench top and automated in circuit test systems, today announced the introduction of the Huntron Tracker 2700 with SigAssist.(TM) The new Huntron 2700 gives test engineers and service technicians manual bench top access to many of the testing and analysis capabilities of Huntron's popular ProTrack(TM) 1 Model 20 Tracker troubleshooting systems. With a color LCD for signature and menu display, new low-voltage test ranges, a built in DC voltage source, dual channels and over 100 range combinations, the Huntron Tracker 2700 lets users effectively troubleshoot the analog and digital components and circuits as well as passive devices found in the latest telecommunications, computer, IT, and military systems. The new variable 5-volt DC generator lets users test SCRs, optical couplers, and other gate-fired devices in both "on" and "off" states. "We designed the new Tracker 2700 to replace the extremely popular Huntron Tracker 2000. With over 20,000 Tracker 2000s in service, the power-off, non-destructive troubleshooting capabilities of Huntron's analog signature analysis technology has proven to be an invaluable tool in the arsenal of test and service technicians worldwide" said Bill Curry, president of Huntron. "Our customers have asked us to update our Tracker technology to test the latest components and circuits. The new Tracker 2700 addresses these requirements. It has 21 selectable voltage/resistance ranges available at 5 frequencies for a total of 105 combinations of voltage, source resistance, and test frequency. This means users can troubleshoot even the most complex circuits such as switching power supplies with fail-safe protection circuits containing many passive components and solid state devices" said Curry. Here's how the new Huntron 2700 Signature Analyzer works. With the Huntron 2700, a user applies a current-limited AC signal across two test points of a component or circuit being tested. The color LCD displays a current/voltage signature unique to the device being tested. When the displayed images are compared with known good devices (or optimally performing circuits), users can quickly determine whether the device being tested is good, bad, or marginal. Often, users refer to this as determining "the overall health" of the device being tested. The entire test procedure is completed without applying power to the device, or circuit, being tested. As a result, the risk of further damaging a device is significantly reduced. New Capabilities Make Analysis Easier New to the Tracker 2700 is Huntron's proprietary SigAssist(TM) technology. With SigAssist, the new Tracker 2700 displays real-time computed numeric values for resistance, capacitance, power, forward breakdown voltage and reverse breakdown voltage together with the unique current/voltage signature of the device being tested. This new capability lets users quickly select optimal ranges for testing and also analyze dynamic changes in signatures. For technicians who are not familiar with signature analysis troubleshooting, the displayed numeric data enhances their ability to learn how to use in-circuit, non-destructive signature analysis. The new Huntron Tracker 2700 comes complete with one pair of Huntron MP20 Microprobes, a set of common test leads, one blue clip lead, a power cord and an instruction manual on CD-ROM. It retails in the US for $2,595. Delivery is 4 to 6 weeks after receipt of order. Like other Huntron benchtop test equipment, the Huntron Tracker 2700 is available nationwide from an extensive network of distributors. The new Tracker 2700 is also available on-line directly from Huntron at
www.huntron.com
. For customers outside the US, CE certification is currently underway and availability is expected to be Q1 2003. About Huntron Huntron, Inc., founded in 1976, pioneered the field of in-circuit power-off, non-destructive troubleshooting. The original Huntron Tracker(TM), allowed users to troubleshoot circuits without having to apply power to the circuit under test. In the years that followed, Huntron became the leader in providing in-circuit, power-off troubleshooting equipment. In 1995, the company introduced the Huntron ProTrack(TM) Series of automated, computer-controlled repair stations. Using flying head technologies, Huntron Probers and ProTrack systems have proven to be ideal for process auditing and rework areas to troubleshoot and repair electronic printed circuit assemblies. With over 50,000 Huntron Trackers and Huntron ProTrack ATE systems in the field, no other company has the experience in developing effective bench, field, and automated solutions for rework, repair, remanufacturing and service than Huntron. In addition to being adopted worldwide as indispensable manufacturing and service troubleshooting tools, Huntron Trackers and ProTrack automated systems are used extensively by the US military. In 1999, Huntron became the exclusive distributor of the Goepel Boundary Scan Test Systems for North America. Today, leading electronics manufacturers worldwide use the products and systems of both Huntron and Goepel for the inspection, test and repair of printed circuit assemblies. For more information, contact: Huntron, Inc. 15720 Mill Creek Blvd Mill Creek, WA 98012 (800) 426 9265 / Fax: (425) 743 1360 E-mail: info@huntron.com web:
www.huntron.com