Product News: Sensors Monitors & Transducers
Temperature Transmitters improve plant and employee efficiency.
Press Release Summary: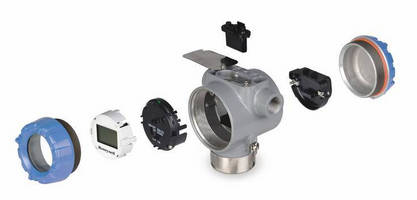 June 11, 2014 - Compatible with Experion® Process Knowledge System, SmartLine™ help reduce project startup time and unplanned downtime. Graphic display shows process data in graphical formats as well as messages from control room, and modular components facilitate field repair and reduce parts inventory requirements. To promote plant reliability and safety, features include dual-compartment housing, transmitter and sensor diagnostics, wiring polarity insensitivity, and real-time display of diagnostics.
Original Press Release
Honeywell's New Smartline Temperature Transmitters Increase Efficencies and Lower Costs
Press release date: June 3, 2014
Temperature Transmitters Now Offered in Unique SmartLine Modular Design
HOUSTON — Honeywell (NYSE:HON) Process Solutions today launched its new range of SmartLine™ industrial temperature transmitters, which improve overall plant and employee efficiency even in harsh and noisy process environments.
This new product line is part of Honeywell's SmartLine field instrument product family, the industry's first modular and most reliable transmitter family currently available for pressure measurement.
"The SmartLine temperature transmitter is based on the same proven platform as our current SmartLine pressure transmitter.  They provide our customers with better performance, unique features that lower their total cost of ownership, and the best integration capabilities available when used with our Experion® Process Knowledge System (PKS)," said Don Maness, vice president and general manager, Field Products, Honeywell Process Solutions. "SmartLine helps reduce project costs and startup time, avoid unplanned downtime, improve product quality, and shorten time to repair."
In industrial plants, field instruments that measure temperature are used throughout the manufacturing process to enable operational safety and product quality. Large industrial complexes, such as those for refining crude oil or producing chemical products, can employ thousands of these devices within their manufacturing processes.
SmartLine temperature transmitters lower plant lifecycle costs by making it easier to maintain field devices with their unique efficiency-enhancing features such as an advanced graphic display capable of showing process data in graphical formats and communicating messages from the control room.  In addition, all SmartLine transmitters, whether they measure pressure or temperature, utilize modular components which simplify field repairs and reduce the parts inventory required to make those repairs. These parts can be easily upgraded and even exchanged between the two different product lines.
SmartLine includes several features to ensure plant reliability and safety.  For example, the SmartLine temperature transmitter incorporates a dual-compartment housing for maximum robustness.  In addition, it features intuitive diagnostics for both the transmitter and sensor. This diagnostic information is also uniquely available on the transmitter display providing a real-time view of the sensor health to support proactive maintenance.
To reduce lifecycle costs, the transmitter features a built-in dual-input and digital output option to minimize the number of instruments needed for both monitoring and switching needs.  Along with its unique modularity, SmartLine reduces complexity along the entire lifecycle, from avoiding initial purchasing costs to reducing maintenance and inventory expenses by eliminating spare parts requirements and simplifying module replacements and upgrades.
"Companies today are trying to do more with fewer experts," Maness said. "The SmartLine platform makes employees more efficient with the ability to use the display to communicate with field personnel. In addition, with the modular design, employees can use similar parts between both pressure and temperature models, making it faster and easier to change a part or upgrade the devices."
Employee efficiency features include wiring polarity insensitivity and local configuration capabilities. Unlike most other transmitters, SmartLine transmitters cannot be damaged by reversed loop wiring polarity and will function correctly if reverse connected. This protection significantly helps during a plant startup, when time can be wasted locating and repairing incorrectly wired devices. In addition, an advanced display and local configuration provides capabilities for field operators to configure the device in the field, solve problems and avoid errors with no need for a handheld device.
Honeywell's unique Smart Connection Suite control system integration delivers transmitter messaging, maintenance mode indication and tamper alerts to improve field time to repair and control room communication, avoid unit trips and make employees more efficient.
For further details about Honeywell's industrial field devices visit
www.honeywellprocess.com/smartline
.
Honeywell Process Solutions (
www.honeywellprocess.com
) is a pioneer in automation control, instrumentation and services for the oil and gas; refining; pulp and paper; industrial power generation; chemicals and petrochemicals; biofuels; life sciences; and metals, minerals and mining industries. Process Solutions is part of Honeywell's Performance Materials and Technologies strategic business group, which also includes UOP, a leading international supplier and licensor of process technology, catalysts, adsorbents, equipment, and consulting services to the petroleum refining, petrochemical, and gas processing industries.
Honeywell (
www.honeywell.com
) is a Fortune 100 diversified technology and manufacturing leader, serving customers worldwide with aerospace products and services; control technologies for buildings, homes and industry; turbochargers; and performance materials. Based in Morris Township, N.J., Honeywell's shares are traded on the New York, London, and Chicago Stock Exchanges. For more news and information on Honeywell, please visit
www.honeywellnow.com
.