Product News: Test & Measuring Instruments
Temperature Recorder features Wi-Fi connectivity.
Press Release Summary: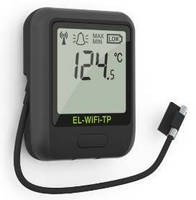 October 10, 2012 - Suited for diverse environments, EasyLog WiFi Temperature Probe Data Logger measures temperature of probe's surroundings within -40 to +257°F range. Current temperature reading is shown on integrated display, and all data can be transmitted via Wi-Fi network to PC for viewing. If network connectivity is lost, sensor keeps recording until able to communicate with PC application (120 days max at 10 sec sample interval). When installed on PC, software enables setup and data logging/review.
Original Press Release
CAS DataLoggers has New WiFi Temperature Probe Logger
Press release date: October 8, 2012
WiFi-Capable for Remote Temperature Monitoring Applications

CHESTERLAND OH – CAS DataLoggers has teamed with Lascar Electronics to introduce a new low-cost temperature recording solution—the EasyLog WiFi Temperature Probe Data Logger. The probe can be used in a wide range of environments such as manufacturing processes and cold or heated storage. This new wireless recorder is ideal for your remote temperature monitoring applications in the food and beverage industry, environmental and weather monitoring, agricultural and livestock, building site monitoring, measuring HVAC effectiveness, and more. Incredibly cost-effective with several convenient features for the price, this new monitor gives you WiFi capability as well as peace of mind.

The WiFi datalogger's sensor measures the temperature of the probe's surroundings within a wide measurement range of -40 to +125°C (-40 to +257°F), and the device's current temperature reading is clearly shown on its integrated display. The data logger utilizes wireless connectivity to transmit all the data via a WiFi network to a PC where you can then view it using a FREE software package.

While you setup the temperature probe logger, its sensor searches for an existing wireless network while physically connected to a PC. It can then be placed anywhere within range of the network for standalone monitoring. If the sensor temporarily loses connectivity with the network, it will keep recording until it is able to communicate again with the PC application (max of 120 days at a 10-second sample interval). You can easily increase the sensor range by using WiFi extenders. The main unit is rated IP55 for durability, while the probe is rated IP67 for exceptional protection.

This low-powered battery device operates on a rechargeable internal lithium polymer battery. When configured using typical sampling periods (e.g. once every minute) the sensor will operate for over one year. The battery can then be quickly recharged via a PC or USB +5V wall adapter using the USB lead provided. The control software is downloadable free-of-charge and is compatible with Windows XP, Vista and 7 (including 64-bit operating systems). When installed on a PC m the software enables set-up, data logging and data review. Set-up features will include sensor name, your choice to record in Celcius or Fahrenheit, selectable sample rate, and high/low alarms. Once configured, historic data can be viewed via the graphing tool or exported to Excel.

Able to fit into almost any budget, these new data loggers provide a user-friendly solution for temperature data recording. Record, save, and view data with wireless today.

For more information on the new WiFi Temperature Probe Datalogger, other economical Lascar dataloggers, or to find the ideal solution for your application-specific needs, contact a CAS Data Logger Applications Specialist at (800) 956-4437 or visit the website at www.DataLoggerInc.com. Contact Information: CAS DataLoggers, Inc. 12628 Chillicothe Road Chesterland, Ohio 44026 (440) 729-2570 (800) 956-4437 sales@dataloggerinc.com

www.dataloggerinc.com