Product News: Labels Tags Signage & Equipment
Tamper-Evident Labels seal and protect pallets.
Press Release Summary: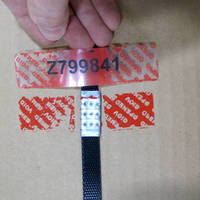 August 6, 2012 - To protect palletized product, users peel and stick Tamper-Evident Pallet Labels, affixing them onto crimps, which connect pallet strapping. Removing label will reveal hidden self-VOID message, even on difficult surfaces, such as stretch wrap and shrink film. Suitable for indoor and outdoor conditions, stock pallet labels are available in red with unique serial numbers printed on surface. For greater security, custom labels can include custom logo and text.
Original Press Release
Seal and Protect Pallets with Tamper-Evident Pallet Labels from NovaVision Inc.
Press release date: August 6, 2012
BOWLING GREEN, Ohio - NovaVision Inc. today announces its new line of tamper-evident seals for pallet banding.

Our tamper evident labels for pallet strapping are our most affordable system for combating tampering and pilfering of palletized product.

Thieves typically remove the original banding, remove product from the pallet, then replace the packing and banding.

To protect your palletized product, just peel and stick a pallet label and affix it onto the crimps, which connect the pallet strapping. A typical pallet has a minimum of two crimps. All crimps should have security labels.

Removing the label will reveal a hidden message to self-VOID the label. Our tamper evident pallet labels are specially constructed to show the hidden VOID message even on difficult surfaces, such as stretch wrap and shrink film.

Each pallet label features a unique serial number. For added security, record the serial numbers on the bill of lading.

A visual inspection protocol is essential to achieve the maximum effectiveness. The receiver verifies the label serial numbers and looks for other signs of obvious tampering. Crimps without pallet labels would also be a sign of tampering.

Our pallet labels are suitable for indoor or outdoor conditions.

Stock Pallet Labels are available in red with unique serial numbers printed on the surface. They are available for immediate shipment.

Customized labels provide more security. We can include your custom logo, text and serial numbers on the stock label. Black is the stock imprint color, but we have other optional colors.

http://www.novavisioninc.com/pages/prd_pallet_security_labels.html