Synthetic-Based Lubricants provide cold-weather protection.
Press Release Summary: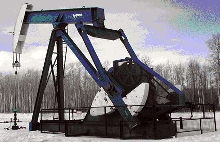 March 12, 2004 - ANDEROL® PumpJack 150, formulated to optimize pump-jack energy efficiency and performance, decreases energy consumption and minimizes maintenance expenditures in cold-weather environments. It provides wear and rust protection and oxidation stability. ROYCO 800 compressor lubricants are formulated with pour points as low as -55°C to provide cold-weather protection for critical application components.
Original Press Release
Anderol Highlights Lubricant Technologies To Optimize Cold-Weather Equipment Performance
Press release date: February 26, 2004
at the Global Petroleum Show Industry-Proven Synthetic Capabilities Unveiled in Booth # 5312

Alberta, Calgary (February 26, 2004) - Maximize oil production! On June 8-10 at the Global Petroleum Show in Calgary, Alberta Canada, ANDEROL® Inc. will assist oil and gas processors in achieving optimal gearbox performance with reduced start-up torques and improved pumpability. The worldwide supplier of customized synthetic lubricants will present field performance data illustrating the capabilities of its ANDEROL® PumpJack 150 to decrease energy consumption and to minimize maintenance expenditures in cold-weather environments. Visitors to booth #5312 will also learn about customized lubricant solutions for gearbox, gas compression, hyper-compressors, and natural gas reinjection applications.

"Our cold-weather synthetic lubricant technologies offer significant advantages to the oil and gas industry by dramatically improving equipment performance and profitability," says Garrett Grega, Global Marketing Manager, Anderol. "Anderol's best-in-class lubricant expertise and high-performance lubricant portfolio will empower attendees to incorporate the proper tools to meet their production goals."

ANDEROL® PumpJack 150 is a synthetic-based lubricant specifically formulated to optimize pump jack energy efficiency and performance. With documented energy savings of up to 14%, this gearbox lubricant also exhibits outstanding water separation, excellent wear and rust protection, and improved oxidation stability. New application-specific data will be presented in the Anderol booth highlighting the considerable performance advantages that companies have gained by using ANDEROL PumpJack 150.

The ROYCO 800 series will also be highlighted at the show. These synthetic-based compressor lubricants are engineered with high film strength to protect against corrosion. Formulated with pour points as low as -55°C, they provide exceptional cold-weather protection for compressor seals, gaskets, hoses, and other critical application components.

Dedicated Anderol staff will be available to offer personalized consultations. To maximize return on investment, increase energy efficiency, or minimizie maintenance costs for cold-weather operating environments, stop by booth #5312. To arrange a one-on-one session with a technical representative during the show, please contact Garrett Grega, Global Marketing Manager, Anderol: 215 Merry Lane, PO Box 518, East Hanover, NJ 07936; Tel:(973) 887-7410 x1523; E-mail: ggrega@anderol.com.

About ANDEROL

ANDEROL, a unit of Kaufman Holdings Corporation, is a worldwide supplier of specialty lubricants serving the air compression, aviation, food & beverage, military, mining, oil & gas, and power generation markets. ANDEROL lubricants help customers achieve business goals by minimizing downtime, reducing maintenance costs, and maximizing ROI. The company provides a full range of professional technical assistance including, testing, research, development, consultation and after-sale support. Products are sold through a worldwide network of distributors under the ANDEROL® BIOGUARD® ROYAL® ROYCO® and PQ® brands. Offices are located in the U.S., Canada, The Netherlands, Italy, and Japan.